Assange cancels 'special announcement' for 'imminent meeting' with UK authorities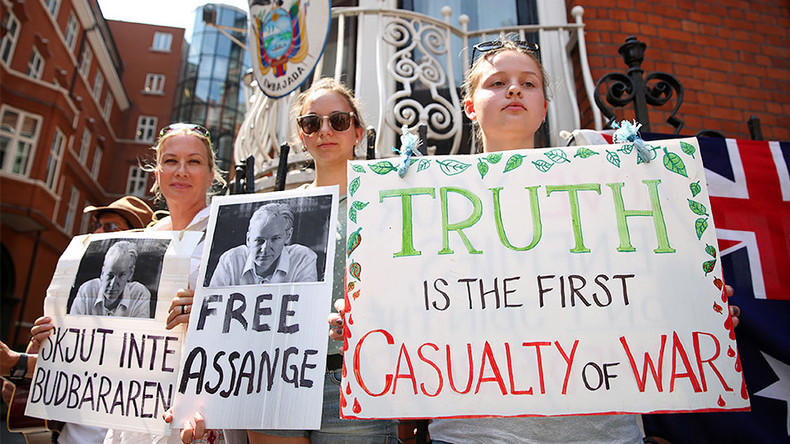 Julian Assange's highly anticipated "special announcement" on the five-year anniversary of his detention at the Ecuadorian embassy has reportedly been cancelled due to an imminent meeting between Assange's legal counsel and UK authorities.
The WikiLeaks editor sought asylum at the Ecuadorian embassy on June 19, 2012 over fears he would be extradited to the US for his work with the whistleblowing website.
Assange's speech from the embassy balcony was deferred on the advice of his legal counsel, WikiLeaks said in a statement.
"This follows the agreement of an imminent meeting with British authorities," WikiLeaks said. "Mr Assange's legal team is optimistic that a satisfactory outcome can be found which respects the British legal process and restores Mr. Asssange's freedom and dignity."
Despite Sweden dropping its almost seven-year investigation into Assange in May, the UK is still seeking Assange's arrest for breaking his bail conditions (by seeking asylum), and won't say whether it will extradite Assange to the US.
Despite the United Nations Working Group on Arbitrary Detention ruling in February 2016 that Assange was "arbitrarily detained," and ordering his immediate release, the UK refused to implement the order and subsequently appealed the ruling, which it lost.
US Attorney General Jeff Sessions said jailing Assange was "a priority" in April, while CIA director Mike Pompeo revealed Assange is a target for the CIA, saying, "Julian Assange has no First Amendment freedoms" and that "No one has the right to actively engage in the theft of secrets from America with the intent to do harm to it."
READ MORE: WikiLeaks 'hostile intel,' Assange & his followers 'demons': CIA chief goes ballistic
US media reported in April that the Department of Justice has prepared charges related to WikiLeaks' publishing hundreds of thousands of military documents and diplomatic cables leaked by whistleblower Chelsea Manning.
"We have support across many parts of the political spectrum in the United States, including most of the mainstream media," Assange told the Press Association. "Within Europe there is a growing recognition that extraditing me or any of our staff to Trump's America is not a way to win votes.
"The US has had a Grand Jury against me and other WikiLeaks staff since 2010," he added.