May Day marked with petrol bombs & protest marches around the world (PHOTO, VIDEO)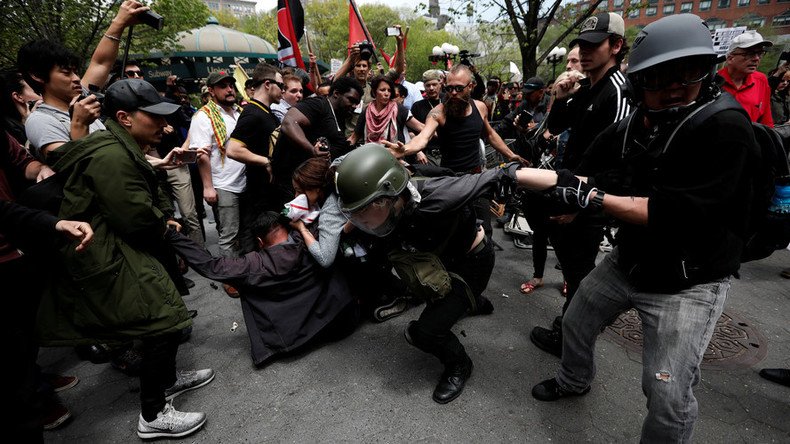 Around the world, left-wing campaigners and ordinary people took to the streets to mark International Workers' Day. While most were peaceful marches, violence flared at some of the events drawing police intervention and media attention.
Russia
Around 2.6 million people attended events throughout Russia, which kicked off in Vladivostok and then continued across all of the country's eleven time zones.
Around 1.5 million people took part in the festivities in Moscow alone, where mayor Sergey Sobyanin led a march through Red Square that included veterans, students, and political activists. Some 56,000 police officers were deployed around the country but there were no reports of violence.
On a lighter note, Novosibirsk students held a parody march known as "monstration," holding up signs such as "Unicorns of the world, unite!" and "All power to the owlets!"
Turin
In Turin, northern Italy, a melee erupted between riot police and around twenty masked protesters, armed with umbrellas and flagpoles, after officers wouldn't let a larger group through onto the Piazza San Carlo, where union leaders were delivering speeches. At least three protesters were arrested, and at least one person was reported injured. The march, which involved thousands of left-wing supporters, otherwise went off without incident.
READ MORE: Violent clashes break out as police, protesters face off in Turin, Italy (PHOTOS, VIDEO)
Paris
Commemorations around the Bastille square turned violent after Molotov cocktails were thrown at police by black-masked activists, leaving at least one officer with serious burn wounds. Other protesters threw smoke bombs to disorientate police, who in turn fired tear gas to try and control the crowd. Elsewhere in the city, marches were peaceful.
READ MORE: Tear gas, Molotov cocktails in central Paris in clashes between police & protesters (VIDEO)
Istanbul
Over 200 people were arrested as left-wing activists, anarchists and trade unionists tried to make it to Taksim Square, the traditional spot for May Day rallies until a bloody massacre in 1977. Police shot tear gas and rubber bullets at marchers in the Mecidiyekoy neighborhood. A 57-year old man was reportedly run over and killed by a police water cannon truck. The governor's office claimed that a number of weapons, including 17 hand grenades, were seized.
READ MORE: Tear gas, over 200 arrests at May Day clashes in Istanbul (PHOTOS, VIDEOS)
Berlin
Thousands of police were on-guard in Berlin's traditionally left-wing Kreuzberg neighborhood to avoid a repeat of the violence of previous years, such as in 2009, when 273 officers were injured during clashes with rioters. While most of the day's celebrations went off without incident, some black-clad protesters started throwing stones and firecrackers at police. Tear gas was discharged and several arrests were made. Meanwhile, in the eastern town of Apolda around 100 people were arrested after allegedly hurling rocks and firecrackers at police officers.
READ MORE: Several cars burnt in Berlin ahead of May Day protests (VIDEO)
Ukraine
A small group of peaceful left-wing demonstrators were attacked by members of the C14 ('Sich') nationalist movement in Vinnitsa, western Ukraine. Police intervened between the two groups and no injuries were reported.
New York
Thousands rallied in New York City against President Donald Trump's immigration policies, and at least fourteen people were arrested after blocking the entrances to the JP Morgan and Wells Fargo banks in Midtown Manhattan. These banks, the protesters claimed, were raking in profits from the detention centers being used to hold undocumented immigrants. Pro-immigrant rallies were also held in Chicago, Los Angeles, Seattle and Washington DC.
READ MORE: At least 14 arrested during May Day rally in New York
London
Hundreds of left-wing activists, some holding images of Soviet leader Josef Stalin, set off on a May Day march from Clerkenwell Green to Trafalgar Square, where there was a heavy police presence.
There, they listened to a speech delivered by Shadow Chancellor John McDonnell of the Labor Party, who called the current situation in the country, including levels of child poverty and demand for food banks, a "bloody disgrace."
He urged his audience to vote for Labor against the ruling Conservatives in the upcoming snap elections in June.
South Africa
A rally by South Africa's largest trade union federation, Cosatu, in Bloemfontein, was abruptly cancelled after President Jacob Zuma was met with chants of "Zuma must go" and "Zuma must fall." Cosatu has traditionally been a key ally of the ruling African National Congress (ANC) party to which Zuma belongs, but his relationship with the union has been strained by corruption and mismanagement allegations, and in April, Cosatu called for him to step down.
Cuba
Unlike in many other countries, May Day rallies in Cuba were almost entirely in support of the island nation's socialist government as thousands gathered in Havana's Revolution Square waving Cuban flags and holding images of Fidel Castro whose brother, and current leader, Raul, oversaw the festivities.
The rally in Havana was briefly disrupted by a single protester waving an American flag, but he was quickly tackled by security.
Portland
A protest at City Hall in Portland, Oregon was cancelled by police blaming rioters for creating "unsafe conditions." Local media reported that "anarchists" were breaking windows, setting fires and throwing projectiles in the city's streets.
Several arrests have been made and a heavy police presence could be seen on footage from the scene.
READ MORE: Violence, arrests mark May Day protest in Portland, as police cancel permit over 'anarchists'
Manila
Organizers claim that up to 35,000 people took to the Liwasang Bonifacio square in Manila to demand higher wages, women and gays rights, and to condemn US imperialism. A few also held up banners calling for an end to extrajudicial killings in the government's bloody war on drugs. At a speech in the People's Park in Davao, President Rodrigo Duterte promised to fast-track an executive order against 'endo' or end-of-contract scheme, a labor practice many consider abusive.
You can share this story on social media: