Several cars burnt in Berlin ahead of May Day protests (VIDEO)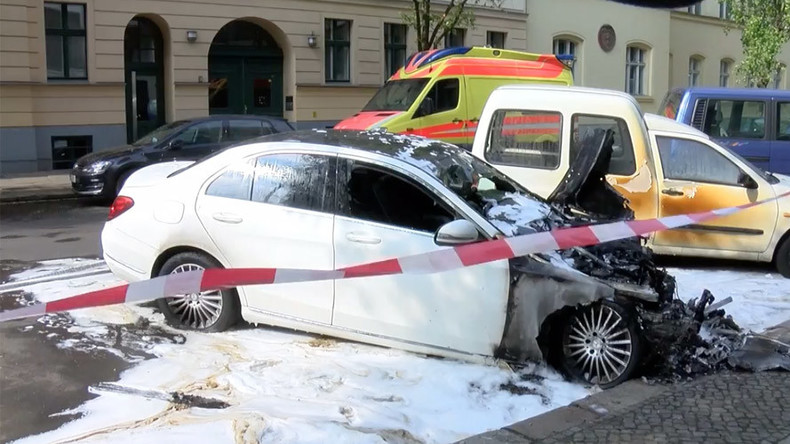 Berlin has seen a new outbreak of car burning during Walpurgis night, the traditional holiday on the eve of annual May Day protests in the German capital.
A white Mercedes C-Class was set on fire in central Berlin overnight into Monday. The aftermath of the arson was captured on a Ruptly video.
The fire was promptly put out by a fire brigade and there have been no reports about casualties.
"I was sleeping and suddenly I heard a loud noise, it was pounding and there was a lot of noise. Once I heard the noise, the sirens from the police, I got up and looked out the window and saw that a car was burning," Judith, a visitor in Berlin, told Ruptly, adding that she saw no people around the car, only police and fire officers.
"It is a scandal what has happened here and as you can see it is a Mercedes, so a symbol of status for the rich and I simply think that alternative people want to perhaps show that they want a difference and attract attention to that and therefore they burnt the car," Judith added.
Fire fighting teams have been on the lookout since young people in Germany are known to use the night before May Day as a pretext for drunken rampages which often descends into violence that includes car burnings as well.
At about 3am local time, the fire brigade in Berlin-Wedding locality had responded to a call that two cars were set alight. It didn't take much time to extinguish the fire. Both vehicles, however, reportedly an Audi and a mini-van, are beyond repair according to the Berliner Zeitung.
READ MORE: Violent clashes break out as police, protesters face off in Turin, Italy (PHOTOS, VIDEO)
About one hour later, firefighters were dispatched to the neighboring area of Reinickendorf to deal with the burning Mercedes. The car is also considered a wreck. A Kia car parked nearby suffered some damage as well.
A criminal investigation has been launched in both cases, according to Bild.
At about 5:20am another Mercedes parked in central Berlin was set ablaze, with firefighters reporting that there was a fire accelerator under the vehicle. A VW Caddy was also affected by the fire.
READ MORE: At least 14 arrested during May Day rally in New York
Apart from the car burnings, this year Walpurgis Night celebration passed relatively calmly, local police reported.
Some 12,000 people took part in the events in Mauerpark in Berlin's Prenzlauer Berg district on Sunday night while 3,000 more protested against rising rents in the Wedding district, according to DW.
May Day had been expected to see at least 20 large scale events in Berlin with police focusing on the main "Revolutionary May Demo" event.
It has not been sanctioned by authorities but Berlin authorities promised to manage the event, deploying more than 5,000 officers.