More than 60% of Germans want to suspend Turkey-EU accession talks – poll
Published time: 15 Mar, 2017 20:37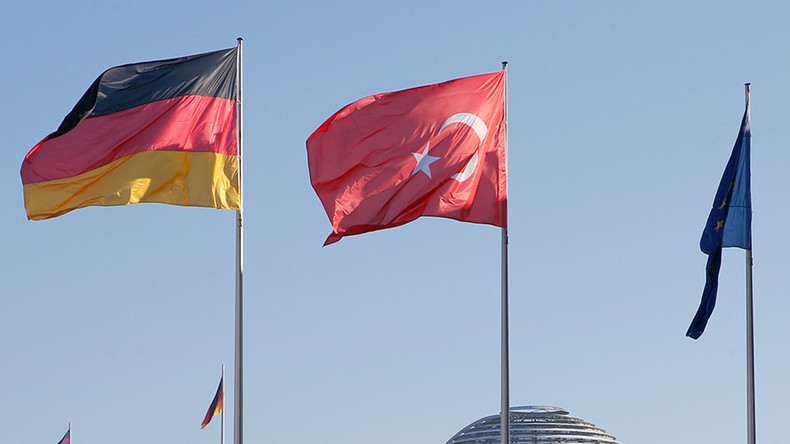 Almost two-thirds of German citizens want to halt negotiations on Turkey joining the European Union, as Berlin-Ankara relations hit a new low over the banning of Turkish rallies in Germany. Turkey compared the move with Nazi actions in the past, infuriating Berlin.
The poll, conducted by the INSA research institute for the Bild newspaper, revealed that 64.2 percent of respondents wants the accession talks to be suspended, while 11.9 percent favors keeping them alive.
The remainder of those who were interviewed abstained from voting. There's also a clear majority among immigrant responders (59 percent), who voted for halting the talks.
EU accession negotiations with Turkey started in 2005. However, relations between Berlin and Ankara have recently plunged to a new low.
In February, Turkish-German journalist Deniz Yucel was detained in Turkey on charges of spreading 'terrorist propaganda' and inciting violence. German Chancellor Angela Merkel slammed the detention as "disproportionate," "bitter and disappointing."
"We will continue to insist on a fair and legal treatment of Deniz Yucel and hope that he will soon regain his freedom," she said.
Things got worse after Yucel's detention when German authorities in the southern town of Gaggenau canceled a visit by Turkish Justice Minister Bekir Bozdag, who was planning to give a speech at a rally in support of the constitutional referendum. Cologne then followed suit, also canceling an event where Economy Minister Nihat Zeybekci was due to speak, saying the city was unable to guarantee the safety of participants on short notice.
READ MORE: 'We protest against Nazi comparisons': Berlin could ban Turkish politicians from Germany
The moves have been harshly criticized by Turkey's President Recep Tayyip Erdogan, who called it 'Nazi practices'.
"It's especially grave — and I personally find it just sad — that Nazi comparisons really only lead to one thing: trivializing the incomparable crimes against humanity carried out under National Socialism," said Angela Merkel in response. "One cannot seriously comment on such misplaced statements."