Erdogan calls Merkel a 'terrorist supporter,' says Turkey will go to ECHR over Netherlands rally row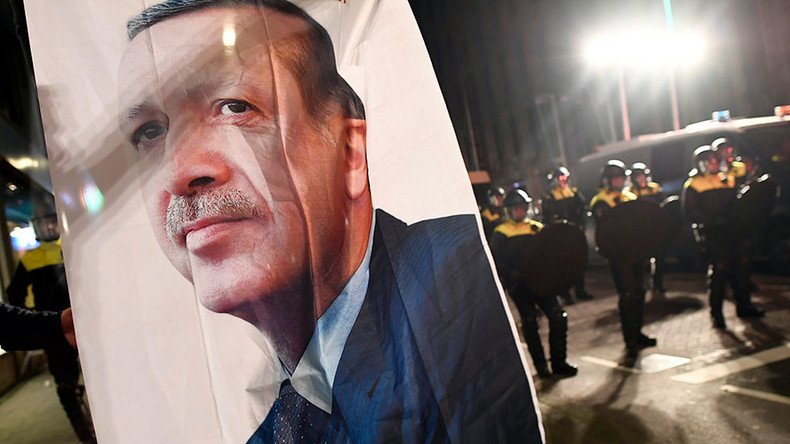 Turkey will challenge the Netherlands in the European Court of Human Rights over its refusal to allow Turkish officials to enter the country and deliver campaign speeches, President Recep Tayyip Erdogan has warned.
In an interview with A Haber television following a cabinet meeting in Ankara on Monday evening, the Turkish leader also promised to deploy "whatever sanctions we have" and to "hold the Netherlands accountable," as quoted by Reuters.
Erdogan also repeated an earlier charge, accusing Germany, another country where speeches by Turkish politicians were canceled, of "mercilessly" supporting terrorism.
"Mrs Merkel, why are you hiding terrorists in your country?... Why are you not doing anything?" said Erdogan, adding that 4,500 dossiers sent by Ankara of mostly Kurdish terror suspects have not resulted in extraditions. "Mrs Merkel, you are supporting terrorists."
When told of Erdogan's comments, Merkel immediately branded them "absurd."
The Turkish leader had previously said the German consulate in Istanbul was "aiding and abetting" terrorism, when it harbored the German-Turkish journalist Deniz Yucel for a month, before handing him over to the authorities. Yucel has been charged with terrorist activities and incitement, partly for covering the Kurdish PKK separatists, coinciding with vociferous protests from the German Chancellor Angela Merkel.
But the row over Yucel, has been superseded by the escalating diplomatic spat, in which local and national authorities throughout Europe have denied platforms for stump speeches by Turkish politicians, aimed at persuading expats – 5.5 million Turks live abroad – to vote in favor of expanding the president's executive powers in April's constitutional referendum.
"Nazism, we can call this Neo-Nazism. A new Nazism tendency," Erdogan told the interviewers on Monday, using a term that has repeatedly been used by Ankara in the past week, despite outrage in Europe.
Germany, which is home to 1.5 million Turkish voters, cited safety concerns when individual towns revoked public speech permits. Sweden and Austria have done likewise, also adding that campaigning around such a controversial referendum could inflame tensions between Kurds and ethnic Turks in their respective countries.
The Netherlands, which is facing its own parliamentary election on Wednesday, has been the most proactive in their refusals, withdrawing a landing permit for Turkey's foreign minister last week, and escorting another minister out of the country, denying her entry to the Turkish consulate in Rotterdam.
On Monday night, Ankara announced that it had banned the Dutch ambassador from returning to the country, and would not allow any ministers to enter Turkey until the crisis is resolved.
Erdogan also accused the EU of "dishonesty" over the migration cooperation treaty signed in March 2016.
"They promised €6 billion euro of aid, but only €750 million has been received so far. They've also led us up the garden path with promises of visa-free travel, which was supposed to be introduced at the end of 2016, something that has not happened," the 63-year-old Turkish leader said.
Erdogan promised to "reconsider" Ankara's relationship with Brussels, and on Monday, two senior officials said Turkey was contemplating withdrawing from the migration deal.
You can share this story on social media: