Turkey's Nazi references 'must stop,' are unworthy of bilateral ties – Merkel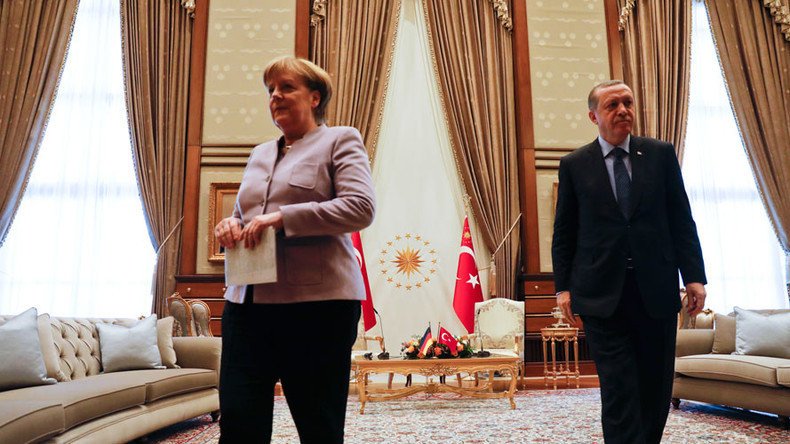 Ankara must stop using Nazi references over the cancelation of Turkish rallies in Germany, Chancellor Angela Merkel has warned. The German leader said the comments "trivialize" Nazi victims, but should not further strain relations between the NATO partners.
"These comparisons of Germany with Nazism must stop. […] We will not allow the victims of the Nazis to be trivialized," the chancellor said in the lower house of parliament (Bundestag) on Thursday, adding she was saddened by a comparison that is "so out of place as to be unworthy of serious comment."

"It cannot be justified. Nazi comparisons only lead to misery" and are "unworthy of the close ties between Germany and Turkey and of our peoples," she stressed.
The chancellor noted that it would be "depressing" if such issues divided the two countries despite common causes, such as fighting Islamist terrorism. She noted that two states that share a "difficult but important" relationship should try to overcome their differences, but do it on the basis of democratic values.
"As difficult as everything is at the moment, as unacceptable as some things are, it can't be in our security and geopolitical interest that Turkey, a NATO partner after all, grows even more distant from us."
Any effort to improve the strained relations is welcome, "but on the basis of our values and our expectations and with clarity," the chancellor stated. The row between Berlin and Ankara developed after German local authorities canceled several campaign events by Turkish ministers in support of the upcoming April referendum on expanding presidential powers in Turkey.
While two of the communities cited security concerns, another said that the agreement between the demonstration organizers and the town hall excluded any political events.
There are some 1.5 million Turkish citizens with voting rights living in Germany – the fourth largest electoral base after Istanbul, Ankara and Izmir.
Berlin denied any involvement in the cancelations, saying the decision was taken solely by local officials. However, Turkish officials have repeatedly hit back, with President Recep Tayyip Erdogan angrily comparing the cancelations to "Nazi practices" over the weekend.
"Germany, you have no relation whatsoever to democracy and you should know that your current actions are no different to those of the Nazi period," Erdogan said at an Istanbul rally on Sunday. His words were echoed by Turkey's foreign minister, Mevlut Cavusoglu, hours later.
However, Cavusoglu later appeared to backtrack, saying that it was a "delicate" matter and that Turkey "is not calling anybody Nazis."
"Our president made a comparison with some of [Europe's] practices. The current trend in Europe reminds us of Europe before World War II," Cavusoglu said.
Most recently, Erdogan's spokesman Ibrahim Kalin criticized Germany along with other European states for barring Turkish officials from campaigning in their countries, stating the practice is raising tensions. Last week, the Dutch government also said that plans for Turkish campaign rallies on its soil were "undesirable," but has not banned the events.
"A huge anti-Turkey, anti-Erdogan attitude is being systematically produced and serviced to the world, especially through Germany," Kalin said at a televised news conference in Ankara on Thursday. "This is a worrying picture for Europe's future and fundamental values," he stated.
German-Turkish ties have been strained over the past several months, with Erdogan's crackdown on the military and civil servants following the July coup adding to the issue.
Among the most recent points of discontent was the arrest of a German-Turkish Die Welt journalist in Turkey, where he is pending trial on charges of inciting hatred and spreading propaganda. In addition, Ankara says Berlin is failing to address Turkish concerns over Kurdish terrorism and deliver on promises for speeding up the country's accession to the European Union.
You can share this story on social media: