Fury in Berlin as Ankara reportedly arrests Die Welt journalist for 'terrorism propaganda'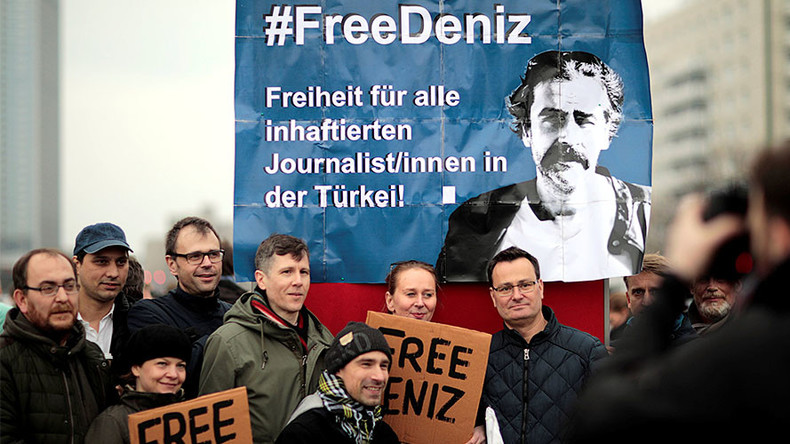 Die Welt's Deniz Yucel, who has both Turkish and German citizenship, has been arrested in Turkey on charges of "terrorism propaganda" and "inciting violence," according to a court witness. The news has sparked a harsh reaction from Germany.
The German Foreign Ministry has "asked in" the Turkish ambassador for a "direct conversation," clarifying that it was not a "formal summons," AFP reported.
"Germany's government, and I personally, are determined to make sure that Deniz Yucel is released as quickly as possible, and we find a proper solution for Deniz Yucel, for the freedom of speech as well as for German-Turkish relations," German Foreign Minister Siegmar Gabriel said in a video address, published on the ministry's Twitter account.
Two weeks ago, Yucel was detained after reporting on emails allegedly from the private account of Turkey's energy minister, Berat Albayrak, who is also President Erdogan's son-in-law, which had been released by a leftist hacker collective.
The leak has been linked to a huge scandal that began months ago, when WikiLeaks said that the emails proved Albayrak's connections to Islamic State [IS, formerly ISIS/ISIL] oil trade.
The 57,000 emails from 2000-2016 tied Albayrak to staffing and salary questions at Powertrans, a company with a monopoly on providing road and rail logistics for oil being transported from Kurdistan. In 2014-2015, Powertrans was also linked to IS-produced oil coming from Syria. Though there wasn't enough evidence to prove the allegations, Albayrak denied having any links to Powertrans anyway.
A court witness told Reuters that the correspondent was jailed pending trial on Monday, becoming the first German reporter to be detained since the July coup and the ensuing crackdown on media.
German Chancellor Angela Merkel slammed the detention as "disproportionate," "bitter and disappointing," while German Foreign Minister Sigmar Gabriel went a step further, saying the journalist's arrest exposes the differences between the two countries' positions on freedom of the press in a "glaring light."
"The German government expects that the Turkish judiciary, in its treatment of the Yucel case, takes account of the high value of freedom of the press for every democratic society. We will continue to insist on a fair and legal treatment of Deniz Yücel and hope that he will soon regain his freedom," Merkel's statement read, as cited by Reuters.
All in all, the crackdown following the failed coup attempt has led some 100,000 public servants, military and police personnel to be suspended or sacked, with tens of thousands arrested.