5 biggest Turkey-EU scandals before Dutch diplomatic row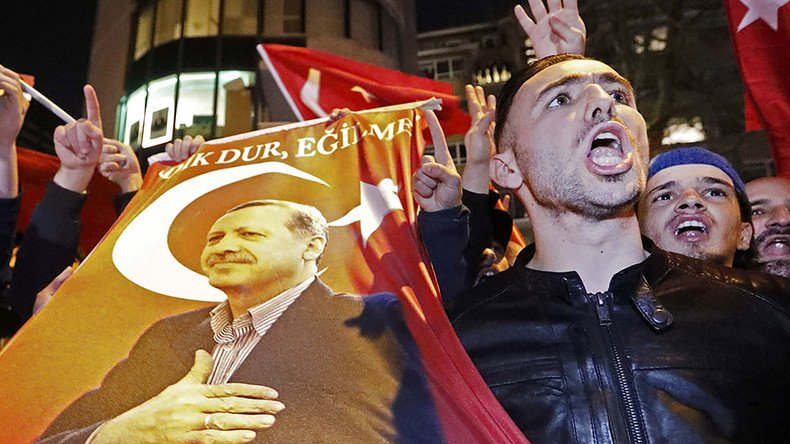 Tension between Ankara and Europe escalated to a new level after the Netherlands refused landing to the Turkish FM's plane and outright deported a Turkish minister from Rotterdam. RT looks at the biggest political rows that preceded the latest conflict.
1. Outrage in Vienna as Erdogan brands Austria 'capital of radical racism'
Turkish President Recep Tayyip Erdogan and his entourage are known for not mincing words when it comes to criticism from European capitals, whether it is linked to meddling in Turkey's affairs or its relationship with the EU.
When last August Austrian Chancellor Christian Kern dubbed the mired EU membership talks with Turkey a "fiction" due to the full-blown crackdown that Ankara launched in the aftermath of a failed military coup, Ankara returned the favor, as Turkish Foreign Ministry Mevlut Cavusoglu labeled Austria "the capital of radical racism." The war of words continued, with Austrian Foreign Minister Sebastian Kurz advising the Turkish government to tone down its inflammatory rhetoric and "do its homework."
READ MORE: Accession brawl: Turkey calls Austria 'capital of radical racism,' Vienna tells Ankara 'do homework'
2. Netherlands summon Turkish ambassador after consulate draws up a list of local 'Gulenists'
READ MORE: Netherlands vows to resist Turkey's 'long arm' in internal affairs after diplomatic row
Turkish-Dutch relations suffered one of many blows in December when a Turkish embassy official admitted to collecting the names of Dutch residents with allegedly ties to the movement of self-exiled Turkish cleric Fethulla Gulen, who Turkish authorities believe was the mastermind behind the foiled military coup. Upon the revelation, Dutch Foreign Minister Bert Koenders summoned Turkey's ambassador to the country, describing the report as "worrying" and vowing to suppress the "long arm" of Ankara. However, other Dutch politicians used far stronger language, with Holland's center-right Christian Democratic Appeal Party labeling the snooping "bizarre and unacceptable."
3. Germany fumes as Erdogan compares ban on pro-Turkish rallies to 'actions of Nazis'
Germany and Turkey have often found their relationship on the rocks over the past few years. However, the latest spat between Berlin and Ankara may overshadow all previous fallouts due to the Turkish president's reference to the country's Nazi past, a particularly sensitive topic in post-WWII Germany. Lambasting the decision to cancel a number of rallies in support of a controversial constitutional reform referendum, Erdogan said: "Germany, you have no relation whatsoever to democracy and you should know that your current actions are no different to those of Nazi period." As the April vote nears, Turkish officials in Europe have been drumming up support for the constitutional reform, which would expand the president's powers. The comparison inevitably drew the ire of Berlin, with German Chancellor Angela Merkel slamming Erdogan's remark as unworthy of comment.
4. Dutch PM demands explanation after Turkish consulate asks to report on those insulting Erdogan
In April of last year, the Turkish Consulate General in Rotterdam made media headlines by asking members of the Turkish community living in the Netherlands to report on fellow citizens who were "insulting our president, the Turkish national or Turkey in general." The outcry that followed the revelation resulted in the consulate apologizing for the "unfortunate choice of words" in a letter containing the request, which had been sent to a number of Turkish organizations in Holland and subsequently leaked online. Commenting on the scandal, Dutch Prime Minister Mark Rutte appeared to be baffled by the odd instruction and ordered the Dutch ambassador in Ankara to demand an explanation.
5. Erdogan labels Dutch authorities 'fascists' for barring flight of FM arriving for rally
On Saturday, the Netherlands revoked the landing permit for Turkish Foreign Minister Mevlut Cavusoglu's flight after he had warned that Turkey would impose sanctions on Holland should the Dutch hamper his plans to speak at a pro-Erdogan rally in Rotterdam. The last-minute move prompted a sharp reaction from Erdogan, who denounced what he called "Nazi remnants, fascists," while promising a similar welcome for Dutch diplomats visiting Turkey. Hitting back, PM Rutte said Erdogan's observations were "way out of line."
You can share this story on social media: