Accession brawl: Turkey calls Austria 'capital of radical racism,' Vienna tells Ankara 'do homework'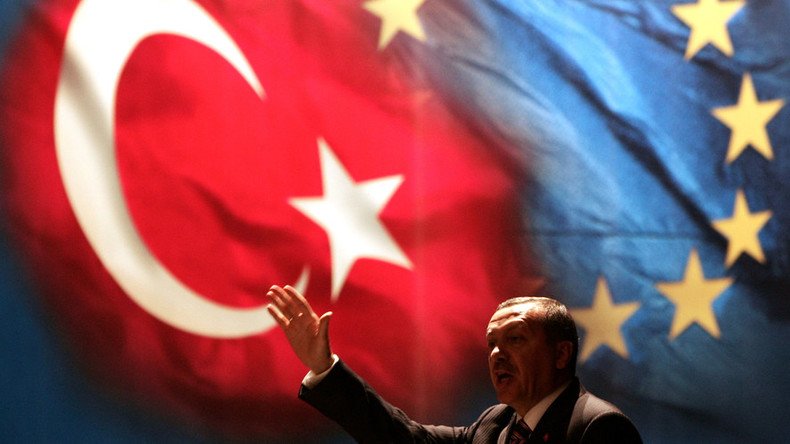 After Austria suggested putting an end to EU membership talks with Turkey, Ankara hit back, labeling Vienna the "capital of radical racism." The Austrian foreign minister suggested Turkey should moderate its wording and "do its homework."
The row between Ankara and Vienna was sparked Wednesday after Austrian Chancellor Christian Kern said in an interview with the public broadcaster ORF that negotiations with Turkey about EU membership is "fiction," citing purges that followed the failed military coup on July 15.
"We have to face reality: the membership negotiations are currently no more than fiction," Kern said.
The Austrian leader made it clear he intends to initiate a discussion among European leaders to discontinue Turkey's EU accession process.
"We know that Turkey's democratic standards are far from sufficient to justify accession," Kern told the Austria's Die Presse daily in a separate interview. "We are all well advised to now say we're pressing the reset button."
The answer from Ankara, which has been actively trying to access the EU since at least 1999, came the next day. In an interview with national TGRT Haber broadcaster, Turkish Foreign Minister Mevlut Cavusoglu called Kern's comments "ugly" and derided them.
"The Austrian chancellor should first take a look at his own country. One of the trends is an enemy of human rights and [one of the] values is racism and today Austria is the capital of radical racism," Cavusoglu said.
Austria's Foreign Minister Sebastian Kurz reacted immediately, saying that he "sharply rejects" Turkish criticism of his nation.
"Ankara is called upon to moderate its choice of words and its course of action [at home], as well as to do its homework," the minister's spokesman quoted Kurz as saying, according to Reuters.
Turkish European Affairs Minister Omer Celik has also come up big in the quarrel, alleging nationalistic overtones in the Austrian official's rhetoric.
"To be honest, I find it extremely disturbing that this kind of statement bears such similarity to the statements of right-wing extremists in Europe," Celik said Thursday, as cited by Turkey's governmental Anadolu news agency. "Criticism is surely a democratic right but there has to be a difference between criticizing Turkey and being against Turkey."
Austria's declared readiness to initiate termination of negotiations on Turkey's accession to the EU received a mixed reception in Brussels.
On one hand, in its current state, Turkey "in the state it is currently in, cannot become a member of the European Union," the European Commission President Jean-Claude Juncker told ARD on Thursday.
On the other, Juncker doubted that telling Turkey that the negotiations are over unilaterally "would be helpful," the official said, according to Deutsche Welle.
EU members are not united in the idea to discontinue EU accession negotiations with Ankara, Juncker noted.
The military coup in Turkey aiming to topple President Recep Tayyip Erdogan started on July 15 and was declared a failure the next morning.
The revolt of the military was used by president's ruling party to stage massive purges against political opponents.
Turkish authorities reportedly arrested over 25,000 people, both military and civilians. A constantly growing number of civilian officials, in fact tens of thousands of them, have lost their jobs.
Erdogan has also said he would consider restoring death penalty in Turkey, a statement that made European politicians say that would mean suspension of accession talks.
You can share this story on social media: