Watch furious Turkish protesters rally in Rotterdam streets amid Dutch row with Ankara (VIDEOS)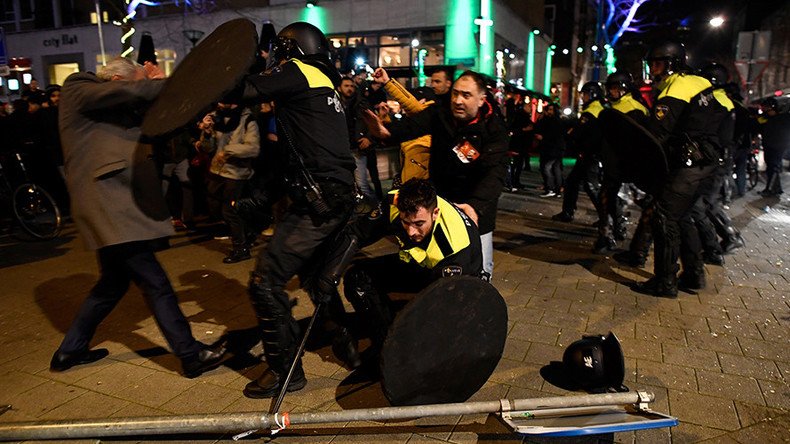 The Dutch government has infuriated President Erdogan's supporters in the Netherlands by preventing two Ankara ministers from staging rallies for the Turkish diaspora. Footage from RT's Ruptly agency captures the violent scenes that happened next.
Turkey's Foreign Minister Mevlut Cavusoglu's plane was on Saturday barred from landing in the Netherlands following an exchange of warnings and threats between the two countries. Separately, Family Affairs Minister Fatma Betul Sayan Kaya attempted to meet with supporters at the Turkish Consulate in Rotterdam, but was prevented from doing so by police and eventually expelled from the country.
READ MORE: Turkish FM threatens Dutch with sanctions if they cancel his landing permit – and they do
Both officials were planning to rally Turkish expatriates in support of Turkish President Recep Tayyip Erdogan ahead of the April referendum on boosting presidential powers. A large crowd of pro-Erdogan demonstrators took to Turkey's Consulate in Rotterdam, despite Turkish officials allegedly telling the Dutch there had been no rally planned.
While the Netherlands said "security reasons" were behind the decision to ban the public gathering, calling Ankara's threat of sanctions the last straw, Turkey took the move as political, accusing the Dutch of trampling on democratic rights and freedoms, and of attempting to meddle in Turkish affairs.
READ MORE: Dutch police deport Turkish minister to Germany after barring her from consulate in Rotterdam
Erdogan, Cavusoglu and Kaya used strong words such as "fascist,""racist" and "Nazis" to describe Dutch politicians opposing the visits, most notably the Dutch Party for Freedom leader Geert Wilders who openly spoke against them.
Hundreds of ethnic Turkish demonstrators remained in central Rotterdam after Kaya was escorted by police to the German border, with tensions running high. Some rocks, bottles and flares flew at riot police cordons.
The Dutch were, however, prepared, dispatching dozens of officers and a special police unit as the minister's expulsion was being negotiated. Eventually, a water cannon was deployed to the consulate to break up the remains of the Turkish rally, with footage showing protesters dispersing as the water cannon showering the street.
"Police didn't have control of the situation for most of the evening - there were cars owned by Turks driving around the city center, waving flags and honking loudly," Fausto Lanser, an eyewitness and a right-wing activist told RT.
"It was quite intimidating, the police were outnumbered, and the main reason that the Turks retreated was that they simply lost sprit, after growing tired."
Ruptly's footage also showed mounted police clearing up the streets and barriers erected to fend off the crowd. Media reports said that batons and police dogs were also used to break up the rally in Rotterdam. Several protesters were subdued.
Meanwhile, in Turkey, Dutch diplomatic premises were all reportedly shut and then blocked off by large crowds of demonstrators waving Turkish flags and nationalist symbols. Riot police could be seen guarding at the Dutch Consulate in Istanbul, but did not interfere as the crowd with loudspeakers blasted speeches and Turkish music at the compound's gates.
READ MORE: Dutch embassy & consulate in Turkey closed off as diplomatic row escalates (VIDEO)
Dan Glazebrook, a British political writer and journalist, told RT late on Saturday there might be a connection between these developments and the detente in Russia-Turkey relations.
"Turkey – which announced kind of rapprochement with Russia last year – is being punished for this. Turkey is so important to the West as a NATO member, it has been the leading conduit of arms and fighters in NATO's proxy war against Syria for so many years," Glazebrook explained.
"It is so important to keep Turkey on board, and now Turkey is talking about healing its relations with Russia who's NATO's enemy number one."
You can share this story on social media: