Rent-a-rose: Russian women offered chance to rent flowers for festive selfie
Published time: 8 Mar, 2017 13:05
Edited time: 8 Mar, 2017 13:06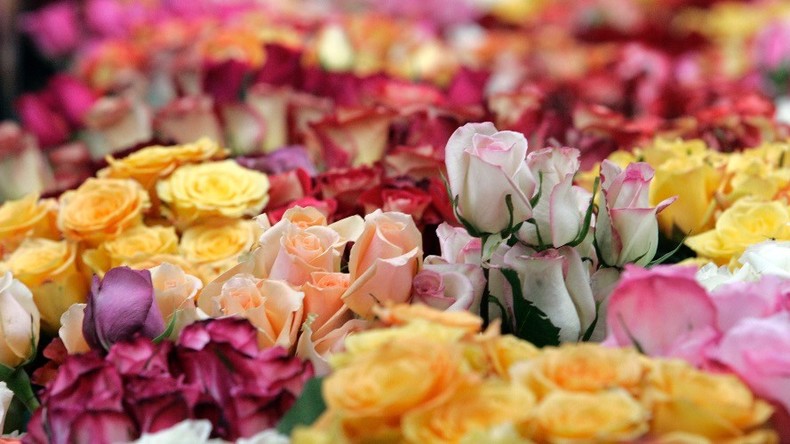 Ever bought a bouquet for yourself on Women's Day just to flash it in front of friends or colleagues? Savvy Russian web entrepreneurs have now come up with an idea to make everyone around you die of envy – flower rentals.
A couple of days ahead of International Women's Day, Russian social media got flooded with ads promoting rentals of giant bouquets. For about 500-1000 rubles ($7-17), women are offered the opportunity to have a luxurious bouquet delivered to them, and 10 minutes with it – to take a few selfies.
"101 roses for a pretty post on Instagram! Enquiries via direct!"
The picture can then be posted on social media to gather 'likes' and spark envy, or sent to a forgetful boyfriend to make him jealous, those behind the idea write in their ads.
READ MORE: Robots, policemen & pilots get creative to mark Int'l Women's Day in Russia (VIDEOS)
"Want to make your boyfriend jealous? To make your girlfriends envy you? We'll bring you a snazzy bouquet of 101 roses! You'll have 10 minutes to take as many selfies and pictures with it as you want!"
The deliveries are advertised for March 7 through 9. Along with the flowers, the service offers gift boxes from luxury brands like Gucci, Dolce&Gabbana, Chanel, Guess, Armani, as well as Tiffany&Co – apparently to inspire curiosity in your subscribers along with envy.
Some ads went even further and offered a man's shoulder for rent. Posts included the option of a handsome delivery boy in case you'd like to take a picture with him, while some offered a little more than that.
"If you lack the personal qualities to get yourself a boyfriend, but want to amaze your girlfriends with selfies of love and happiness, I will come by and we will make a 'love-story' photo-shoot. You will get 15 minutes to take as many pictures with me as you'd like. The price is only 1,000 rubles (it includes the delivery and the image of a heartbreaker)," a man calling himself Alexander wrote in one such ad on Instagram. Surprisingly, none of the women who responded to it seemed in any way offended, but instead joked and asked whether they could rent him for next year in advance.
READ MORE: 20% worldwide believe women inferior to men, survey says
The ads did spark some critical comments, with people stating they are a "quintessence of the modern set of values" and suggesting a male version of the service would offer "a Rolex watch, 2 iPhones and a view from a Moscow City building."
And while it is impossible to tell how many women actually used the service, the social media today is blooming. But let's face it – a woman holding flowers is a beautiful sight, no matter whether she rented them or not. So just hit 'like!'