Robots, policemen & pilots get creative to mark Int'l Women's Day in Russia (VIDEOS)
While flowers and chocolate are in abundance in Russia, which is marking International Women's Day with public holiday and celebrations, some are coming up with quite unconventional ways to make their loved ones smile.
On March 8, millions of Russians rush to markets and shops to get fresh flowers, a traditional part of festive atmosphere of the day. Even the walls of Kremlin sported a holiday greeting this year.
There were those, however, who decided to bring about the holiday spirit early – including police officers seemingly taking part in a nationwide flash mob.
One of the iconic Kremlin walls has been spiced up with a giant light projection featuring a bouquet of red, white, and blue flowers, shaped to form the map of Russia. "To you, our beloved ones!" the visual postcard says.
In the Tver Region, a group of officers made an 8 with their patrol cars and captured it from above with a drone.
In Chelyabinsk, policemen took it to another level, shaping a flower next to their cars with their own ranks.
Belgorod police, too, picked up the trend, while in Orenburg cadets joined the officers to form the word "March" and release red balloons into the air.
Meanwhile in Earth's orbit, Russian cosmonauts Andrey Borisenko and Oleg Novitskiy sent their very special congratulations to women, speaking in a feed from the International Space Station (ISS): "Today, looking from the deck of the ISS at our planet, we see that it is especially beautiful, and that is all thanks to you."
A mysterious pilot from the city of Novosibirsk then marked Women's Day by skywriting the huge "8" in the heavens.
Those wishing to treat women with a March 8 surprise were not limited to men, however.

A robot working for the Russian Emergencies Ministry, called Theodor, gave flowers to women in the Moscow metro, as the ministerial orchestra played and invited female onlookers for a dance. The robotic admirer usually helps firefighters, scouting ahead in extreme conditions.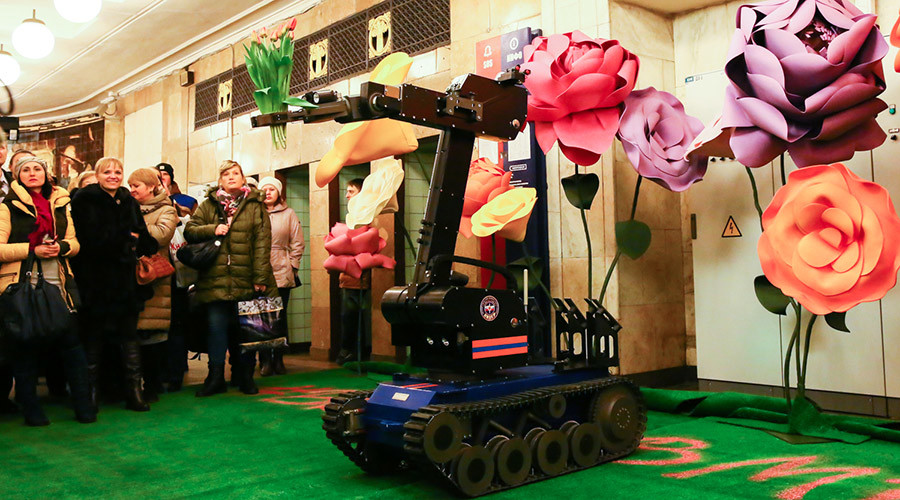 Meanwhile at the iconic VDNKh trade show and amusement park in northern Moscow, an entire "Robostation" pavilion will be celebrating. It boasts of several androids that not only will give away flowers, but also read poems and shower women with compliments.
On an even lighter note, the Krasnoyarsk zoo decided to treat its female inhabitants who may not be human but still enjoyed a creative holiday bonus after recently giving birth. Monkeys and civets indulged edible bouquets of fruits, while porcupines got to enjoy carrot posy.