Down's syndrome woman to present weather on French TV after heart-melting FB campaign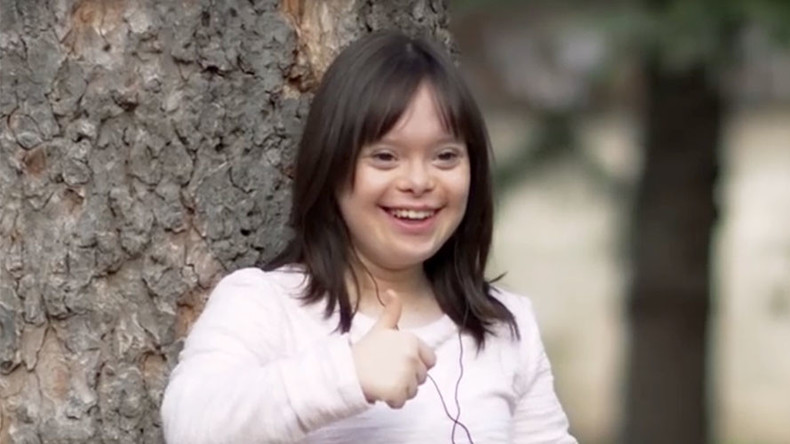 A woman with Down's syndrome will have her dream come true and present weather for one day on French TV, after an emotional Facebook campaign which touched the hearts of thousands.
21-year-old Melanie says that she wants to show the whole world how much she can do.
Her page with the hashtag #melaniepeutlefaire (Melanie can do it) has gathered more than 180,000 likes in less than a week.
"Hello, my name is Melanie, I am 21 years old. I'm different, but I want to show everyone that I can do a lot of things. I want to prove it, by doing a job on TV," the woman said on her Facebook page, which was launched in late February. She said that for success, she needed 100,000 likes.
Melanie's big dream will come true March 27. This is the exact date she will present weather on two French channels – BFTMV and France2TV. Both channels confirmed the information on Thursday.
READ MORE: Maddy Stuart, a model with a difference, set to rock New York Fashion Week
"Bravo to your courage. A good example for the pessimists. I hope a TV station will hire you for a very long time. Good luck!" one of the comments on Melanie's page reads, while another says: "With a smile like yours, bad weather or not, it's on, you will bring the sun into homes."
READ MORE: Down Syndrome actress to rock New York catwalk in all-time first

"Looking forward to meet you Mélanie. We are very happy to welcome you on France2tv," Chloé Nabédian, a weather presenter, tweeted.
"We are waiting for you on BFMTV," the channel wrote.

"Thank you all for your likes! I still need you to present weather on TV," Melanie wrote.
Her supporters wrote that they were happy for the 21-year-old, saying that she is going to be "a ray of sunshine for the whole of France."
"You have incredible charm, a great speech and especially of the will," "Congratulations Melanie, we are with you! Keep you faith!" people wrote.
READ MORE: #OurMasha: Natalia Vodianova launches campaign for 7yo Down Syndrome girl barred from school album

Melanie's campaign was organized by Unapei group, which represents and defends people with intellectual disabilities.
"People with disabilities are invisible these days," the groups said in a statement. "The 100,000 likes are mostly about support, and it means a lot more than just a thumbs up."