Down Syndrome actress to rock New York catwalk in all-time first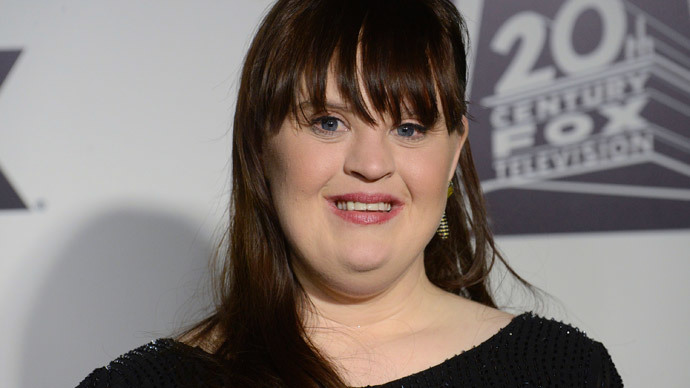 Actress Jamie Brewer is to become the first model with Down Syndrome to hit the catwalk at the New York Fashion Week, as part of the "Role Models Not Runway Models" show Thursday.
Brewer, who is best known for her role in the American Horror story, will walk with other non-models rocking an original design by Carrie Hammer at the NYFW.
"Young girls and even young women... [see me] and say 'hey, if she can do it so can I,'" Brewer told Today on Wednesday. "It's a true inspiration being a role model for any young women to [encourage them] in being who they are and showing who they are."

This is what role models look like. All lined up and ready to strut down the runway! #RoleModelsNotRunwayModelspic.twitter.com/mfEUvK17Jg

— CARRIE HAMMER (@carriehammer) February 12, 2015
Brewer has been an active defender of the right of people suffering from Down Syndrome. She was behind the successful push to abolish using the word "retarded" from state legislation regarding people with disabilities within Texas.

Carrie and the fabulous @MsJamieBrewer! Now off to get some beauty sleep before tomorrow. #RoleModelsNotRunwayModelspic.twitter.com/8ypwiKuopp

— CARRIE HAMMER (@carriehammer) February 12, 2015
The #RoleModelsNotRunwayModels show was initiated a year ago by fashion designer Carrie Hammer. The fall/winter 2014 presentation featured a wheelchair-bound model, Dr. Danielle Sheypuk.
READ MORE: Finnish punk band with mental disabilities applies for Eurovision to raise awareness
In another case earlier this year, Finnish punk band Pertti Kurikan Nimipäivät (PKN), all of whom have mental disabilities, applied to take part in the Eurovision Song Contest to raise awareness for Down Syndrome. The band members became film stars with a 2012 documentary called "The Punk Syndrome."
You can share this story on social media: