Torture, abuse, & harassment: ex-housemaids describe horrors of working in Saudi Arabia to RT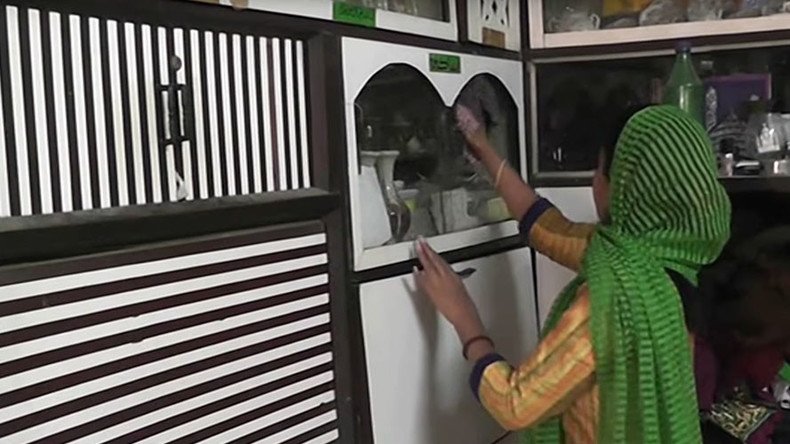 Two Indian women who used to work as housemaids in Saudi Arabia shared their stories of being held captive by employers. They say they were subject to sexual abuse and torture, and claim hundreds of women currently live in similar circumstances.
"The owners of the house where I had to work treated me very badly – they used to beat me every day, harass and torture me," 38-year-old Noorjahan Akbar Husen tells RT.
She and her husband were hoaxed by an agent in Mumbai, who promised to provide a job for them in Riyadh, but offered a different one in the Saudi city of Dammam. She was separated from her husband right after landing in Saudi Arabia, and held captive, tortured, and harassed on a daily basis. She was also forced to work for a "home service," which is a byword for the flesh trade in Saudi Arabia, she says. Her struggle to gain back her freedom lasted several years.
"When I informed the Indian Embassy people, they told me to continue working in the house. They said if I complained, the owner would make a false complaint against me, and the local government might put me and my husband in jail. I asked them for help every day," the woman, who now returned to Ahmedabad, India, said.
She also said her owner prevented her from leaving the country using his influence in the Indian Embassy, which is a standard practice, according to the woman.
"Many owners in Dammam are in contact with the Indian Embassy people, so they bribe them and prevent maids like me from leaving the country… My husband asked Indian Foreign Minister Sushma Swaraj for help on many occasions, but it didn't come," she explained, adding that the only way to get any help was to bribe the embassy officials.
READ MORE: 'Kill the worthless dog': Saudi princess 'abuses' Paris decorator, Twitter users enraged
"Eventually, they said they could help me – but for 250,000 Indian rupees [$3,700]. I borrowed that sum and gave it to the embassy people. My husband is still working in Saudi in order to pay back the borrowed money," Noorjahan stated, noting that she saw dozens of girls who shared the same fate in pursuit of wealth in Saudi Arabia.
"In Dammam alone I saw around 200 girls like me. They tortured them too. The owners use their maids however they want."
Another woman, Anjum Fatima, who was also stranded in Saudi Arabia after being cheated by job agents, says her employers continued forcing her to work even after she fell ill.
"They beat me a lot. I suffered from severe stomach pain. They didn't even give me any medication. For six months I worked until 2am, even when I was sick. They tortured me at night. If they were not satisfied with my work, they threw hot water in my face," the woman recalls.
Fatima and her husband were also approached by agents who promised well-paid employment as a cook in Medina. Instead, her employer sent her off to a tribal Al-Qassim area, and agreed to pay less than a half the money promised.
"When I flew over, no one came to pick me up for three days and my relatives called my agent. After that, he sent a person to pick me up, but we didn't go to Medina. I asked about my salary and he said they would give me only 7,000 [Saudi] riyals [$1,800], instead of the promised 15,000. I asked my agent and he just said to work for five months. After that, he assured me I would be replaced by another person. Four months passed, no one came to replace me," she says, adding that she never received the money for these four months either.
In order to return home, she and her husband pleaded with police, but they refused to register the case until Fatima sent her story to the Times of India. When the news came out, her house owner stopped torturing her and, eventually, she returned home.
Both women wanted their stories heard to save other women from the horrors they were forced to endure.
"We should stop going to Saudi Arabia. Agents are giving fake information, offering one place and leaving us in another – in some locked room, where [people] treat us like it is hell. Even men are suffering," Fatima, who is now in Hyderabad, warns.
"I would say to all those who want to go to Saudi Arabia to work, who are dreaming of becoming rich – it's all false, it's all a lie. The people who go there are getting tortured, abused, and sexually exploited. I spent more money on returning to India than I earned in Saudi Arabia. All women should avoid going to Saudi Arabia, and repeating the mistake I made. I saw how horrible life in Saudi Arabia is," she said.
In 2013, Saudi Arabia approved a ban on domestic abuse, the first in the country's history. It states that all forms of physical and sexual abuse at home and in the workplace are punishable by up to a year in prison and a fine, with officials claiming it is just one of a series of long-term measures designed to achieve the Kingdom's aim – that of becoming a tolerant Islamic country.
Nevertheless, Saudi Arabia still makes headlines for alleged human rights abuses. For instance, in a recent report, Amnesty International said women and girls continue to face discrimination and are inadequately protected against sexual abuse in the country.

"Women and girls continued to face discrimination in law and in practice, and were inadequately protected against sexual and other forms of violence. Women remained legally subordinate and inferior in status to men," the group's annual report for 2016/2017 states.
Human Rights Watch has also repeatedly slammed the country for its human rights record, stating that out of more than nine million migrant workers in Saudi Arabia, which constitutes half of the workforce, many suffer abuse and exploitation "amounting to conditions of forced labor."
READ MORE: 'Sex traffickers' plied underage girls with alcohol, pimped them at Travelodge hotels, court hears
Colin S. Cavell, author and political analyst, says the practice of sexual slavery has deep roots within Saudi Arabia's political system and can hardly be eliminated unless the regime changes.
"The practice of sexual slavery is able to continue in the kingdom because of the structure of the regime in Saudi Arabia. It is a corrupt regime run by… a family dynasty that is unelected and rules with an iron fist," he told RT.
"In Saudi Arabia, especially immigrant laborers, who constitute over half of the national workforce, are subjected to continuous abuse, rape, beatings, and murder, they have their passports confiscated once they arrive in the country by their employers and are manipulated by the sponsorship system which amounts to modern-day slavery."
You can share this story on social media: