Putin: Russia's ban on Western foods will last 'as long as possible'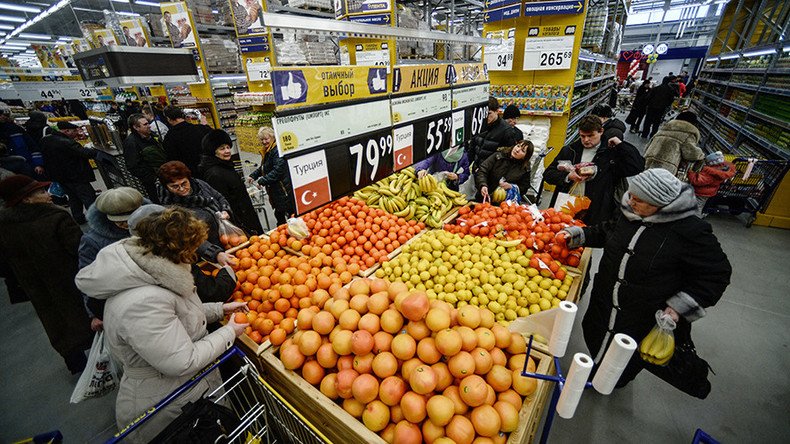 Russian President Vladimir Putin said the country's reciprocal measures in the form of an embargo on certain western food products are good for Russia's economy and should last "as long as possible."
Admitting that his statement might seem "totally unexpected" for some, Putin explained that the ban is also in the consumers' interest, with good quality products at lower prices becoming more available.
"We must create viable conditions," he said, speaking at an 'Action Forum' of the All-Russia People's Front on Tuesday.
Russia's agricultural production has been given a boost in the wake of deteriorating relations with the West. After the anti-Russia sanctions were introduced in 2014 over the Ukrainian crisis and Moscow's alleged role in it, Russia banned imports of certain foods from a number of Western states.
"We really did it responsibly and, in fact, used the short-sighted decisions that had been applied in regard to our country by our so-called partners, who introduced the sanctions," Putin said, stressing that Russia's counter measures were also meant to protect its domestic market.
In June, the Russian president signed a decree that prolongs economic sanctions on some Western products until the end of 2017. The ban on certain agricultural products, raw materials, and food imports from countries that support anti-Russian sanctions followed the EU's move to formally extend their own restrictions against Moscow.
A number of Western officials have opposed the economic stand-off with Russia, warning their governments that it is their own economies that suffer. While protests have been staged in some European countries, including farmers opposing the ban on selling their products to Russia, some European policymakers and businesses have become increasingly skeptical about the effectiveness of the sanctions.
The measures have proven to be politically ineffective and economically harmful for both Russia and Europe, they claim.
READ MORE: 'Absolute blindness in the EU': Italy's wealthiest region urges lifting of Russia sanctions
Italy has been among the EU countries most often calling for the removal of the sanctions, citing the harm to its own economy. Last week, Italian MP Paola Carinelli said her country "lost as much as €7 billion ($7.4 billion) since the beginning of sanctions," while several thousands have lost their jobs.
You can share this story on social media: