US panel on China concerned by Beijing's growing military might, urges Congress to investigate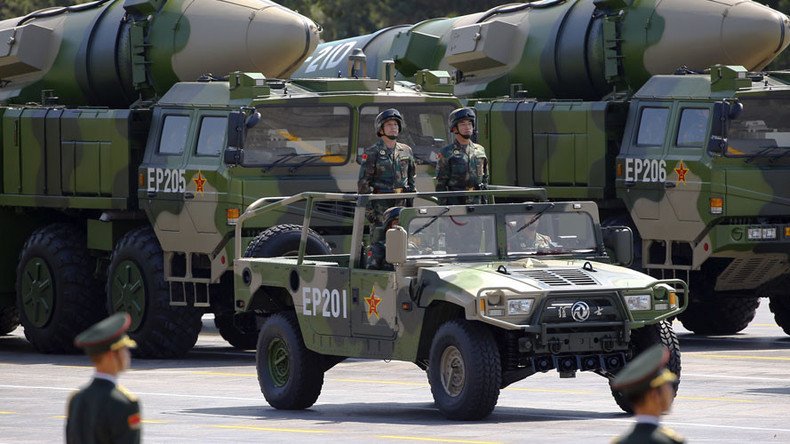 A US commission on bilateral relations with China has warned that the country's fast-growing military may pose a threat to US security, while urging Congress to assess whether America's involvement in the region diminishes its own military capabilities.
"The military capabilities China is developing will expand or improve the ability of the People's Liberation Army to conduct a range of externally focused operations [and] strengthen China's traditional war-fighting capabilities against weaker neighbors. Given its enhanced strategic lift capability, strengthened employment of special operations forces, increasing capabilities of surface vessels and aircraft, and more frequent and sophisticated experience operating abroad, China may also be more inclined to use force to protect its interests.
"China's pursuit of expeditionary capabilities, coupled with the aggressive trends that have been displayed in both the East and South China seas, are compounding existing concerns about China's rise among US allies and partners in the greater Asia," states a lengthy annual report from the US-China Economic and Security Review Commission, which was submitted to the US Congress on Wednesday. After detailing the spheres in which China has been improving its capabilities, the report recommends that the Defense Department look more closely into the "gains and risks" to the US resulting from its participation in the fate of the region.
"[The Commission recommends that] Congress require the US Department of Defense to conduct a study identifying the risks and gains associated with the United States pursuing a burden sharing strategy that utilizes emerging People's Liberation Army expeditionary capabilities to help stabilize the Asia Pacific region during a crisis or to counter a shared threat such as the spread of terrorism in Southeast Asia," the report urges.
It also advises the Defense Department to assess the US' own military capabilities to see if they measure up to China's and would be sufficient if China "uses force."
"[It] should also detail the national security implications of a diminished domestic industrial base (including assessing any impact on US military readiness), compromised US military supply chains, and reduced capability to manufacture state-of-the-art military systems and equipment," it said.
READ MORE: Beijing holds surprise South China Sea drills in response to US patrol
The report notes that China's military buildup and island-building campaigns in the South China Sea have continued in 2016 despite condemnation from neighboring states and even an adverse ruling from an international tribunal. The waterway is one of the world's busiest trade routes, used by nearly half of the world's commercial shipping. Beijing has been building artificial islands with military facilities there despite conflicting territorial claims on these waters from its neighbors, raising concerns about future freedom of movement in the area.
"China's pursuit of an expeditionary capability is a concern among US allies and partners in Asia. China continued building military and civilian infrastructure on the 3,200 acres of artificial islands it has created since 2013, completing runways and building reinforced aircraft hangars on three outposts. [All of this] provides Beijing a wider range of options for using force to resolve territorial disputes [and] in war-fighting missions against weaker regional opponents. Recent developments… suggest Beijing is willing to risk criticism by the United States, the region, and the wider international community for eroding the Asian security environment," the report says.
Out of these concerns, the Commission called on Congress to back "more frequent US freedom of navigation operations in the South China Sea in conjunction with US allies and partners."
The report also detailed the great strides China's military has taken in the technical sphere, for instance recently testing new space launch vehicles and putting additional intelligence, surveillance, reconnaissance, and navigation satellites into orbit within the past year. It also pointed out that China was close to completing its first domestically built aircraft carrier, noting that since late 2015, China has taken part in 11 major military exercises with other nations and been keen to show off its growing military might.
To deal with the growing risk to US security posed by Chinese spying techniques, including the threat to US organizations, the report urged Congress to ban Chinese state enterprises from gaining "effective control" over American corporations and firms. The commission also said that the US has failed to adequately respond to threats posed by Chinese intelligence gathering because of a lack of coordination between US intelligence agencies. It also recommended that the US State Department alert US citizens overseas to the dangers of the recruitment efforts of Chinese agents.
The Commission was set up by the US Congress in 2000 to monitor Chinese economic and military developments and their implications for US national security. The Commission holds regular hearings and roundtables and produces an annual report detailing its findings, in which it recommends further research and legislative or administrative action that should be undertaken by Congress with respect to the US' relationship with China. This year's report comes a week after the US presidential election was won by Republican candidate Donald Trump, who has repeatedly promised to take a tougher stance on trade and security between the two countries.
You can share this story on social media: