China must 'abide by international law' in South China Sea dispute – Obama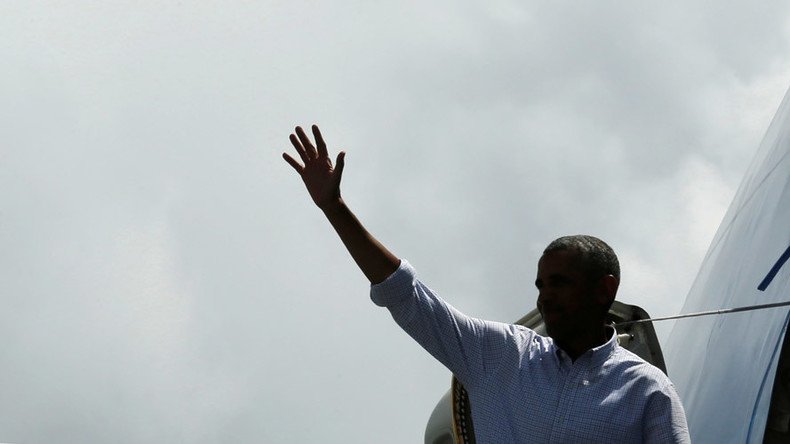 As China looks to assert itself internationally, US President Barack Obama is urging Beijing to be a good global citizen and show more responsibility. China should stop "flexing muscle" in disputes and show reciprocity, he told CNN.
"What we have said to the Chinese – and we've been firm consistently about this – is you have to recognize that with increasing power comes increasing responsibilities," Obama told CNN's Fareed Zakaria.
The interview, which is to be aired Sunday, comes ahead of Obama's last presidential visit to China for the annual G20 summit that unites the world's strongest economies. The event is an especially big deal for China. Not only is it the second time the summit convenes in Asia, it is China's very first time hosting.
Beijing eyes the summit as an opportunity to boost both the international economy and its own. In the US, it's is seen as a potentially positive development, with just one concern.
"An impoverished, collapsing China would be dangerous for everybody," President Obama said. "What we have said consistently is that we welcome the peaceful rise of China, consistent with international norms."
The US president has also reiterated that the Chinese government should "stop flexing muscles" in conflicts, in particular when it comes to the dispute it has over the South China Sea. The dispute involves the Spratly and the Paracel Islands. Beijing's territorial claims to the islands partially overlap those of the Philippines, Vietnam and Taiwan, while Beijing also has ongoing territorial disputes in the area with Malaysia and Brunei.
"If you sign a treaty that calls for international arbitration around maritime issues, the fact that you're bigger than the Philippines or Vietnam or other countries ... is not a reason for you to go around and flex your muscles," Obama said. "You've got to abide by international law."
Earlier in July, China refused to recognize the Hague Tribunal's ruling in favor of Philippines, saying that its Spratly Island has some with exclusive economic zones, where Chinese people have had activities for 2,000 years.
China has repeatedly warned that it will not recognize any adverse ruling from The Hague's arbitration court. Beijing boycotted the hearings at the Permanent Court of Arbitration, saying that it does not have jurisdiction to decide the dispute.
"Part of what I've tried to communicate to President Xi is that the United States arrives at its power, in part, by restraining itself," Obama said. "You know, when we bind ourselves to a bunch of international norms and rules it's not because we have to, it's because we recognize that over the long term, building a strong international order is in our interests."
Speaking of interests, Obama also stressed that Beijing should show more reciprocity as it is aiming for larger growth and increased influence on the international arena.
"You can't pursue mercantilist policies that just advantage you now that you are middle-income country in many ways, even though you still have many poor people. You can't export problems. You've got to have fair trade and not just free trade. You have to open up your markets, if you expect other people to open their markets," Obama said.
While on his visit in the Chinese city of Hangzhou, the stage of the G20 summit, the US president is going to meet his Turkish counterpart Recep Tayyip Erdogan on the sidelines of the event.
This will be their first meeting since the failed coup attempt in July, which played a significant role in souring the relations between the two countries.
"We support the Turkish people, but like any good friend, we want to give them honest feedback if we think that the steps they're taking are going to be contrary to their long-term interests and our partnership," Obama said, stressing that the reaction of the Turkish government is "understandably is scared and concerned."
You can share this story on social media: