Xi & Trump express 'mutual respect' in 1st phone call, agree to meet soon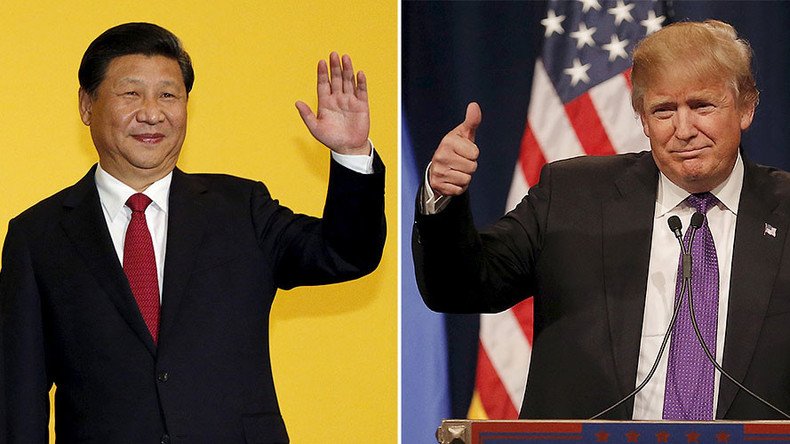 Chinese President Xi Jinping has had his first phone conversation with US President-elect Donald Trump, telling the latter that cooperation was crucial to maintain further relations between the two countries.
"The facts prove that cooperation is the only correct choice for China and the United States," Xi told Trump on Monday, as cited by Xinhua news agency.
"The two sides must strengthen coordination, promote the two countries' economic development and global economic growth, expand all areas of exchange and cooperation, ensure the two countries' people obtain more tangible benefits, and push for better development going forward in China-US relations," the Chinese leader added.
According to the news agency, Trump told Xi he was willing to work with China to strengthen mutual cooperation, stating his belief that US-China relations can "definitely achieve greater development."
"During the call, the leaders established a clear sense of mutual respect for one another, and President-elect Trump stated that he believes the two leaders will have one of the strongest relationships for both countries moving forward," a statement from Trump's presidential transition office said.
According to Xinhua, Xi and Trump agreed to meet soon and maintain close communications until then.
Xi Jinping congratulated Trump in a message delivered shortly after his election victory last week. In his message, he said the two biggest economies in the world, China and the US, shared responsibility for promoting global development and prosperity.
"I place great importance on the China-US relationship, and look forward to working with you to uphold the principles of non-conflict, non-confrontation, mutual respect and win-win cooperation," Xi said last week, as cited by Reuters.
Meanwhile, Trump was rather harsh in his comments regarding China throughout his election campaign, blaming the Chinese government for the loss of jobs in America and even pledging at one point to impose a 45-percent tariff on goods imported from China. After the Republican secured his position as America's next leader, Chinese media warned him against delivering on these promises, while expressing hope that in practice he would prove to be a pragmatist in foreign policy. Beijing hopes for stability in bilateral relationship with Washington as it faces challenges at home, one of them being upcoming changes within the government in late 2017.
Some of Trump's rhetoric may be viewed favorably in China, however, particularly his attitude to the Trans-Pacific Partnership (TPP), a trade deal for the Asia-Pacific championed by the Obama administration as a vehicle for setting America's trade rules for the region. The TPP excludes China. Trump called it a "disaster" and vowed to veto it.
Beijing also said it was waiting for Trump to comment on other issues of US foreign policy relating to Asia, like the deployment of anti-ballistic missile systems in South Korea, a move perceived as hostile towards China in Beijing. There is also uncertainty regarding global trade and the security balance in the Asia-Pacific.
China has not been the only country which met Trump's victory with caution. A number of European leaders expressed concerns regarding Trump's many controversial statements even as they congratulated him last Tuesday.
Political establishments in Europe are also bracing themselves as elections loom in several member states, with Trump's win viewed as a good omen by populist parties across Europe, which now believe they have better chances to win in their upcoming elections.
You can share this story on social media: