Trump picks RNC chair Priebus as WH chief of staff, campaign CEO Bannon as top strategist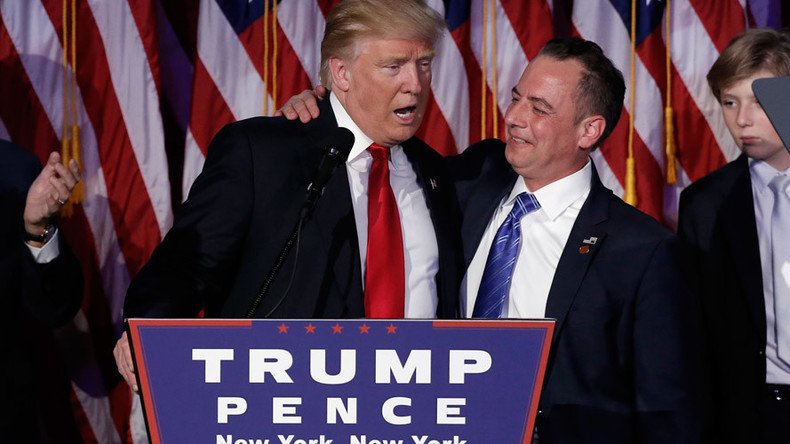 US President-elect Donald Trump has named the Republican National Committee chairman Reince Priebus as his future White House chief of staff, and appointed his campaign CEO and chairman of Breitbart News Stephen Bannon as chief strategist.
"I am thrilled to have my very successful team continue with me in leading our country," Trump said in a statement. "Steve and Reince are highly qualified leaders who worked well together on our campaign and led us to a historic victory. Now I will have them both with me in the White House."
The chief of staff is the highest-ranking employee of the White House, who is appointed directly by the president without Senate confirmation and serves as the personal secretary and agenda-setter for the US leader.
READ MORE: Burning bridges: Senate Dem leader lashes out at Trump amid tense transition
The appointment of Priebus may indicate a step back from Trump's campaign promise to "drain the swamp" of the Washington establishment, as the RNC chairman has close ties to House of Representatives Speaker Paul Ryan. On the other hand, this may help him to push his agenda through the Senate.
Priebus' direct competitor for the chief-of-staff post was Bannon. The right-wing media mogul who oversaw Trump's presidential campaign, many argued, would have been a better choice for the position.
READ MORE: Trump promises to deport at least 2mn 'criminal' immigrants in post-election interview (VIDEO)
A fierce critic of the Republican establishment and a close ally of Trump, Stephen Bannon, instead was named a senior counselor by the president-elect.
The statement emphasized that the two men would work "as equal partners to transform the federal government."
Overall Trump will be seeking to appoint over 4,000 staff members to play a role in his future administration. On Thursday the president-elect met with President Barack Obama to discuss his smooth transition to assuming office at the White House.
You can share this story on social media: