Burning bridges: Senate Dem leader lashes out at Trump amid tense transition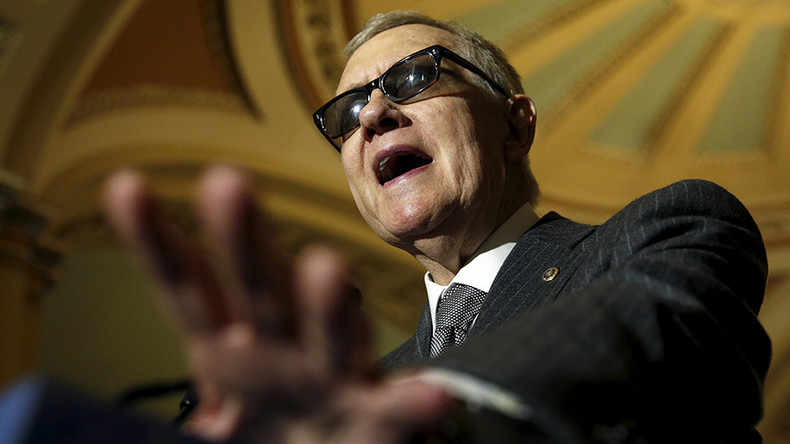 Despite President Barack Obama's call for reconciliation, many Democrats remain bitter about Donald Trump's electoral win. Amid protests across the US, outgoing Senate Minority Leader Harry Reid (D-Nevada) lashed out at the president-elect.
In a statement on Friday, Reid called Trump "a sexual predator who lost the popular vote and fueled his campaign with bigotry and hate," and argued that the president-elect "must begin immediately" to "roll back the tide of hate he unleashed."
"The election of Donald Trump has emboldened the forces of hate and bigotry in America," Reid said in a statement. "White nationalists, Vladimir Putin and ISIS are celebrating Donald Trump's victory, while innocent, law-abiding Americans are wracked with fear – especially African Americans, Hispanic Americans, Muslim Americans, LGBT Americans and Asian Americans. Watching white nationalists celebrate while innocent Americans cry tears of fear does not feel like America."
Mother Jones magazine cheered Reed's comments on, as did many Hillary Clinton supporters still angry over her electoral defeat on Tuesday.
Reid's bluntness might be explained by the fact that the longtime Nevada senator is retiring from politics. His seat will be filled by Catherine Cortez Masto, former state attorney general and the first Latina to be elected to the Senate.
Trump supporters and Republicans in general, however, accused Reid of hypocrisy and inciting riots.
The president-elect himself condemned "professional protesters" in a tweet on Thursday, after visiting Washington to meet with Obama and the Republican leaders in Congress.
While Obama has made several appeals for an orderly transition of power, several prominent progressives – including Senators Bernie Sanders (I-Vermont) and Elizabeth Warren (D-Massachusetts) – said they would work with Trump on economic issues but resist him on "bigotry" in every way.
Democrats' discontent is fueled in part by reports coming in from all over the US of Trump supporters insulting and harassing minorities, which Reid's statement referred to.
One of the most prominent such attacks, however, turned out to be a hoax. On Wednesday morning, a Muslim student at the University of Louisiana at Lafayette reported she had been attacked by two Trump supporters, who knocked her to the ground and stole her wallet and hijab. The woman later "acknowledged she fabricated the report," AP reported, citing local police.