'Relaxed & full of good ideas': Farage first UK politician to meet US President-elect Trump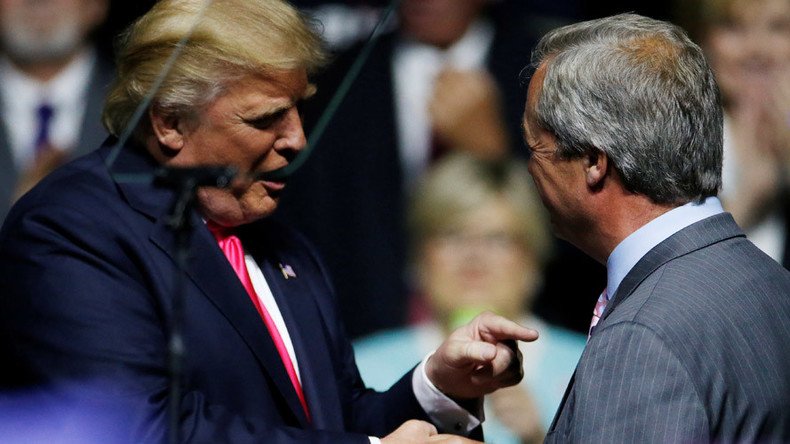 British UKIP leader Nigel Farage fully endorsed the choice of Americans in electing Donald Trump. He was the first UK politician to meet with the president-elect on Saturday, saying Trump was "full of good ideas" and will be a "good president."
The leader of the UK Independence Party has been an ardent Trump supporter throughout his campaign, even visiting the Republican convention in Cleveland this summer to endorse the 70-year-old's candidacy.
One of the chief engineers behind Brexit referendum, Nigel Farage, has reportedly been working as a consultant for the Trump campaign over the last few months and even delivered speeches in the United States in support of the billionaire entrepreneur.
On Saturday the two politicians discussed "freedom and winning" as Farage visited the Republican in New York at Trump Tower, Kellyanne Conway, a senior adviser to Donald Trump confirmed.
As he entered Trump Tower at 1:50pm Farage told journalists that he was a "tourist" in New York, refusing to discuss earlier reports which indicated that the Brit had been seeking a position in the Trump administration.
The UKIP leader was originally scheduled to meet Trump's inner circle rather than the president-elect himself, but the two had a two-hour meeting, according to a spokeswoman.
After conversing with Trump, Farage took to Twitter to endorse Trump's candidacy.
"He [Trump] was relaxed and full of good ideas. I'm confident he will be a good President," Farage wrote. Trump's "support for the US-UK relationship is very strong. This is a man with whom we can do business."
"Especially pleased at @realDonaldTrump's very positive reaction to the idea that Sir Winston Churchill's bust should be put back in Oval Office," Farage tweeted.
While waiting to assume executive responsibilities, Trump and his key advisers have been meeting at Trump Tower to work out a smooth transition as he assumes his seat in the White House.
READ MORE: Soros-fronted orgs among groups calling for anti-Trump protests (VIDEO)
Farage's visit to the Trump Tower came as thousands of people gathered outside the New York landmark for a fourth day of protests against his presidency.
You can share this story on social media: