UKIP chief Nigel Farage eyes job in Donald Trump White House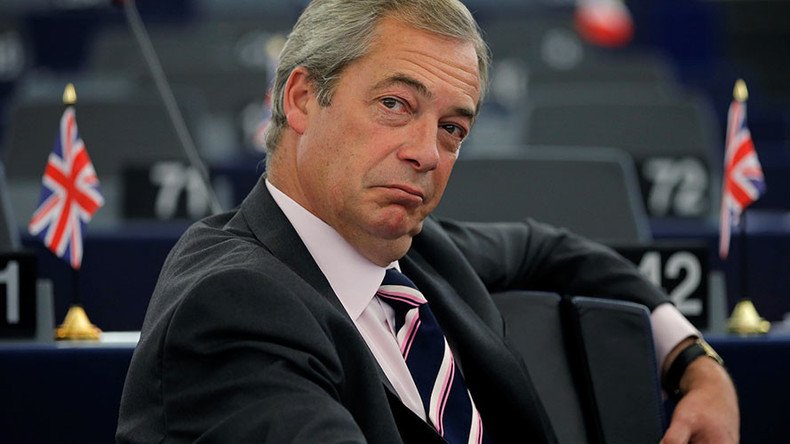 Brexiteer-in-chief Nigel Farage wants a top job in the White House if Republican candidate Donald Trump is elected US president.
The interim UKIP leader has been working as a consultant to the Trump campaign over the last few months, and even delivered speeches in the United States supporting the billionaire entrepreneur.
Is this Brexit day in the US? I hope so.

— Nigel Farage (@Nigel_Farage) November 8, 2016
"This election is very simple: it's rather like Brexit. Do you want a change, or do you want to stay exactly as you are? That's what it's all about," he told ITV's The Agenda program.
"If he did offer me a job I would quite like to be his ambassador to the European Union. I think I would do that job very well."
Farage was, however, less forthright when asked whether he had already discussed any possible positions in the Trump administration with The Donald himself.
Trump has described his potential electoral win as "Brexit plus plus plus."
Trump: "I think it's gonna be Brexit plus plus plus"

What so things are going to cost 3x more??

— Dan Shepherd (@TheCarteI) November 7, 2016
Brits for Trump
Farage is not the first British public figure to support Trump's presidential bid.
Major UKIP donor Arron Banks has defended Trump's "p*ssy grabbing" comments, saying: "I think it's obviously the case when men get together, men will say these things. Men talk big. Men say all sorts of things."
Banks was also quoted saying Trump's success was based on connecting with voters "emotionally," not through facts.
Former Work and Pensions Secretary Iain Duncan Smith also came out in support of the business mogul, arguing Trump is a "very decent man."
His office later claimed that Smith did not officially endorse Donald Trump.
Another Tory Trump supporter is MP Michael Fabricant, who even shares a similar hairstyle with the US presidential hopeful.
In May, Fabricant said Trump would make "a great president." Although he did not always agree with Trump's positions, "as soon as he were to become president he would be very pragmatic, he would have different advisers around him."
Political commentator Katie Hopkins also came out as a "loyal Trump fan," writing in her Daily Mail column mere weeks before the US election: "I love his bombastic rhetoric. I applaud his straight talk in the face of terror and his feel for the frustrations of ordinary Americans."
You can share this story on social media: