'I'll play with you in public': Duterte challenges West to confront drugs crackdown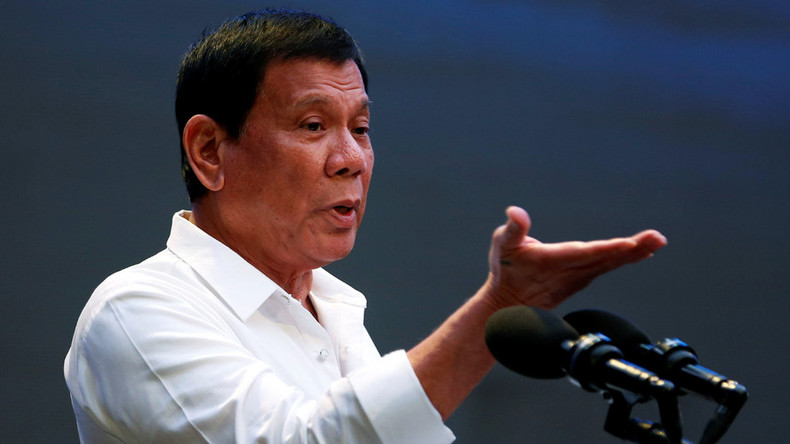 Philippine leader Rodrigo Duterte has promised he will 'humiliate' UN, EU and American representatives after inviting them to investigate his drugs war.
Speaking to a group of businessmen on Thursday, Duterte seemed confident that he would not only be able to answer any questions, but would put investigators on the spot as well.
"I've been a trial lawyer for many years, I'll play with you in public," he said, speaking at Pasay City. "I'll ask five questions that will humiliate you. I'll ask ten questions where you will agree with me."
"You wait for it, you watch it all. It will be good. It will give you entertainment," he said.
President Duterte has been waging a fierce campaign against drugs, once saying in a speech that that he would be happy to "slaughter" drug addicts as Hitler "massacred" Jews. In September, he invited representatives from the UN, EU and United States to investigate his anti-drugs campaign. Duterte has been accused of supporting extrajudicial killings, telling would-vigilantes that if they shot a drug dealer, he'd give them a medal.
But on Thursday Duterte denied that systematic extrajudicial killings were a part of the crackdown.
"The succeeding firefights, I must admit, were between the police and the criminals," he said. "But it – the killing – was never the thing of the government at the outset."
"There will be killings. They chose to fight it out. There is a very simple instruction to the police and military: Go out and hunt for them, arrest them… If he does something which you think will [hurt] you as a police officer, then kill the idiot."
"I will play with you. I am very sure, very sure they cannot be brighter than me. Believe me, I will play with you," he said of the outside inspectors.
On Wednesday, Presidential spokesman Ernesto Abella declared that Agnes Callamard, the UN Special Rapporteur on Extra-Judicial Executions, has been formally invited to investigate the alleged killings in the Philippines. However, Callamard tweeted that she has yet to receive official confirmation.
Philippine National Police (PNP) statistics seemed to show that over 3,800 people have been killed by either gangs, vigilantes or police officers since Duterte took office in July. However, on Thursday this figure was revised down to around 2,300. During his election campaign Duterte admitted to being behind the Davao Death Squad, a group responsible for the deaths of hundreds of alleged petty criminals and drug dealers while he was the mayor of Davao City.