Baffling and appalling: Philippine leader Duterte slammed over Hitler remark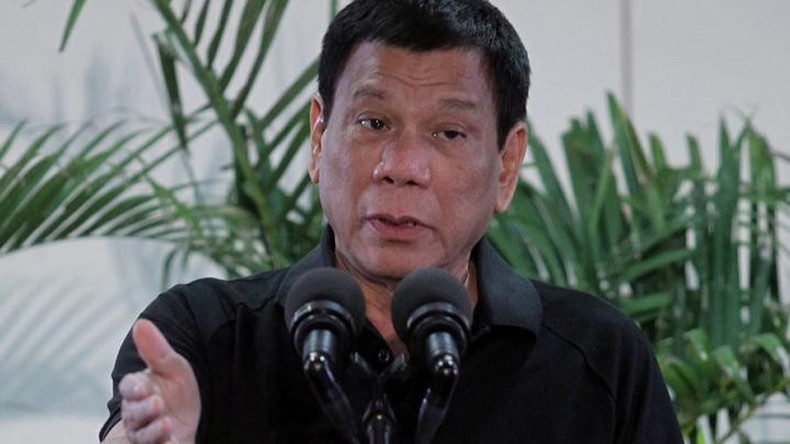 Comments made by Filipino President Rodrigo Duterte comparing himself to Adolf Hitler have drawn widespread condemnation, with Jewish groups slamming the remarks as baffling and revolting.
Speaking in the Philippines after his return from Vietnam, Duterte said that his critics were making him out to be "a cousin of Hitler".
"If Germany had Hitler, the Philippines would have...," and Duterte stopped to point at himself. "There are three million drug addicts [in the Philippines]. I'd be happy to slaughter them."
READ MORE: Duterte tells critics he'd be 'happy to slaughter' drug addicts like Hitler massacred Jews
"You know my victims. I would like [them] to be all criminals to finish the problem of my country and save the next generation from perdition."
Jewish groups have responded to the comments with a mixture of shock and indignation.
"Hitler was a megalomaniac and a mass-murderer who was responsible for the slaughter of six million innocent Jews and millions of others during World War II," said Jonathan Greenblatt of the Anti-Defamation League in a statement, "it is baffling why any leader would want to model himself after such a monster. It is notable that the Philippines has a proud history of providing refuge to over a thousand Jews fleeing Hitler's genocide."
Ronald S. Lauder, the president of the World Jewish Congress, described the remarks as "revolting".
"We just marked the 75th anniversary of Babi Yar, the massacre of more than 33,000 Jews in Ukraine by Nazi Germany, in a mere two days," Lauder said, speaking from Jerusalem. "Now, the elected leader of the Philippines openly calls for the mass murder of people who are addicted to drugs."
"Drug abuse is a serious issue. But what President Duterte said is not only profoundly inhumane, but it demonstrates an appalling disrespect for human life that is truly heart-breaking for the democratically elected leader of a great country."
"President Duterte must retract them and apologize," he added.
The German Foreign Ministry has called for the Philippine ambassador to "come to the ministry for a discussion on this issue."
"Any comparison of the singular atrocities of the Holocaust with anything else is totally unacceptable," German foreign ministry spokesman Martin Schaefer told AFP.
United Nations spokesman Stephane Dujarric said that any comparison to the Holocaust "is inappropriate and needs to be rejected" and that any anti-drugs efforts must be carried out "in accordance with human rights standards, with international law, with a focus on the users and rehabilitation."
Duterte has previously called UN General Secretary Ban Ki-moon a "devil" for criticizing his harsh counter-narcotics policy. The statesman is not the only victim of Duterte's off-the-cuff speaking style: he has also referred to Barack Obama as a "son-of-a-b***h" and used a similar epithet to describe Pope Francis.
Rodrigo Duterte came to power in May, promising to wipe out crime and put an end to the drug problem in his country. According to the latest police figures cited by AFP, since June law enforcers have killed 1,011 suspected criminals, with an additional 1,391 "deaths under investigation."
His approach has gained vast support among the regular public, however raising concerns from political opponents, human rights groups and the US in particular.