'Banana republic': Architect tweaks Austrian flag amid election jumble
Published time: 20 Sep, 2016 01:48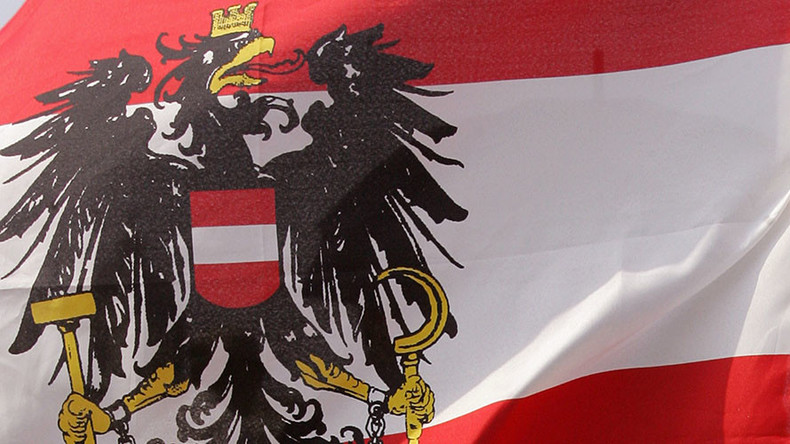 An Austrian architect has come up with a new version of the national flag, which now shows an eagle in a funny hat clutching bananas. The design, inspired by the election scandal-linked media comparison to a "banana republic," has triggered a police response.
READ MORE: Sticking point: Austria's re-run election postponed due to faulty glue on ballots
City architect and master builder Markus Voglreiter, from Obertrum in Salzburg, has decided to "upgrade" the imperial eagle after local tabloid newspapers compared Austria to a "banana republic." The comparison was drawn after the country's presidential election re-run was once again delayed, this time due to faulty glue.
The re-run was supposed to take place in October, however, it was postponed till December when it turned out that some of the voting envelopes had not been glued properly. The elections were initially held in May, however, the results were annulled after Austria's highest court found there was a number of procedural irregularities during the voting process.
Voglreiter had the modified flags fluttering in front of his office, which attracted a number of onlookers, some of whom even dropped by asking if the flags were for sale. Voglreiter has reportedly sold over 50 flags.
Police, however, didn't appreciate the joke and ordered him to take the flags down Monday afternoon.
If Vogleiter does not obey, he may be charged under section 248 of the Austrian Criminal Code on "Disparagement of the state and its symbols," which says that anyone who "acts in a hateful way" toward the flag or any other symbol of the Republic of Austria may be fined or sentenced to six months in prison.
"Even if one is almost driven to despair, we shouldn't lose our sense of humor," Vogleiter said, according to Salzburger Nachrichten.
"The eagle is wearing a funny hat, and of course he has some bananas in his talons – and in addition he looks a bit crazy."
Voglreiter explained that he and his friend artist Manfred Kiwer decided this would a good way to document what is currently going on in Austria "in some artistic way." The new flag was intended only to make people smile, the architect said, adding that there has been no negative reaction to the flag from the public.
Austria's coat of arms has been in place since 1919. The broken chains on the eagle's legs were added in 1945 when Austria was liberated and separated from Nazi Germany and the Second Republic was established.
READ MORE: Austrian far-right Hofer wants to suspend naturalization of Turks, says 'Auxit' still possible