Austrian far-right Hofer wants to suspend naturalization of Turks, says 'Auxit' still possible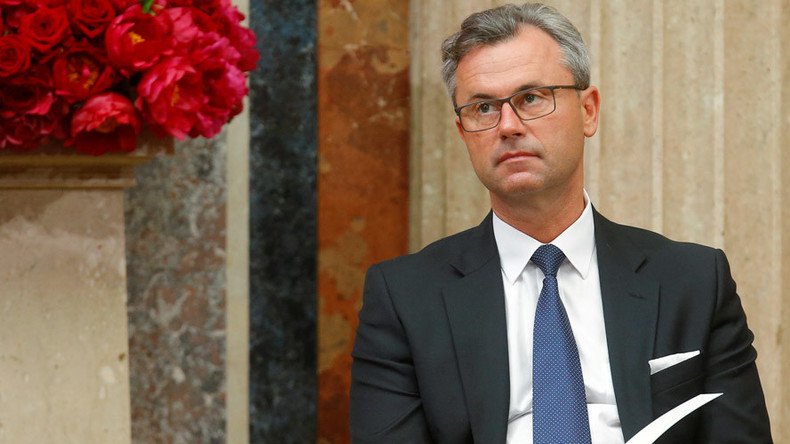 Far-right Austrian Freedom Party (FPO) presidential candidate Norbert Hofer has called for a ban on naturalization of Turkish residents in Austria until dual citizenship issues are resolved and said that his country could still leave the EU if Turkey joins the bloc.
Hofer said that he "very much advocates the demand" to break off the EU accession talks with Turkey, as he launched his campaign in the re-run presidential election by giving an interview to the Oesterreich daily.
He said that the accession talks do not help the EU to make Turkey more western-oriented, adding that this strategy "does not work" anymore.
"It would be right to tell Turkey absolutely honestly that this country is so big and has such a different culture that the Union would not cope with its accession," he told the Oesterreich daily. At the same time, he called on both Europe and Turkey to show more restraint in debates over the issue. He said it would be "wrong" to stir up controversy, thus provoking an unnecessary conflict.
Hofer also expressed his concern over the issue of potential "double loyalty" of some Austrian citizens of Turkish origin in the view of the recent massive demonstrations in Europe in support of Turkish President Recep Tayyip Erdogan.
"From a legal point of view, [rallies] are allowed if they are approved by the authorities and no violent incidents occur. However, we must also reflect on what is happening: 5,000 Turks – and that is an effective strength of a brigade – took to our streets, well organized and with flags, just within hours," Hofer said, adding repeatedly that such demonstrations were "organized," meaning that the people were actually "mobilized" for the events.
In this regard, he also said it is necessary to know how many Turks who were granted citizenship in Austria have also retained their Turkish citizenship, which is illegal under Austria's strict dual citizenship laws.
"If someone wants [Austrian] citizenship, he must become an Austrian and feel like an Austrian," he said, and called for a ban on granting Austrian citizenship to Turks until Ankara provides information on who has double citizenship. He also proposed to review the cases of all Turks who were previously granted citizenship in Austria.
Addressing the issue of Turkey potentially pulling out of the refugee deal with the EU, Hofer said that, if it happens, the EU will have to "fulfill the agreements at last and really provide security to its external borders." He also stressed that asylum seekers trying to reach Europe by sea should be rescued and then sent back, adding that asylum processing facilities and refugee centers should be also "moved out of Europe."
Hofer said he supports the idea of introduction of a burqa ban in Austria and believes "it makes sense."
Brexit is 'democratic decision,' Auxit could still be possible
Commenting on Austria's possible exit from the European Union, Hofer said he would personally advocate such a move in two cases: if Turkey joins the EU, or if Brussels takes any more powers from the member states and gives them to the Union's supranational bodies.
In early July, Hofer already told RT that Austria will stay in the EU only if Turkey stays out. Hofer also warned that Austria could hold its own referendum on EU membership within a year if the bloc insists on political "centralization."
Hofer said that he is against any further centralization within the EU, and supports the idea of a "subsidiary" union. He also said that the UK's decision to leave the EU shows that the bloc's current policies are wrong.
"Brexit is Brexit and it should be taken into account. It would be a mistake to believe that the Union could continue [with its policies] and get away with it," he said.
Hofer also said that it is too early to say if Brexit was a wrong decision for the UK itself, stressing that it could be seen only in 10 years. At the same time, he stressed that it was the will of the people.
"Great Britain is an old well-established democracy and democratic decisions should be taken into account," Hofer said.
At the same time, Hofer distanced himself from other Eurosceptic and right-wing politicians in other EU member states, such as Marine le Pen in France and Geert Wilders in Netherlands. Although he called them and their parties "patriots," he said that the FPO does not agree with them on all points.
Hofer also said he would suspend his FPO membership if elected and will focus on working in the interests of all Austrians.
Hofer is leading in the first polls conducted ahead of a repeat of the Austrian presidential election, which is due to be held in October. The FPO candidate received 52 percent of support from respondents, according to a Gallup poll, commissioned by the Oesterreich newspaper in late July.
Hofer was defeated narrowly by Alexander Van der Bellen, a Green-backed independent, in the presidential run-off in May, but those election results were cancelled by the Constitutional Court, which declared them void in the view of reported irregularities in the procedure of counting postal ballots.
You can share this story on social media: