Saudi Arabia issues e-bracelets for hajj pilgrims after deadly 2015 stampede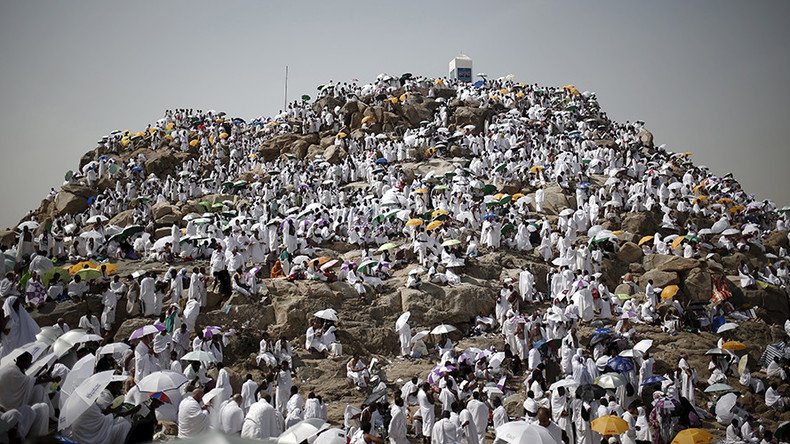 Saudi Arabia has reportedly started issuing special e-bracelets to the members of the annual Hajj pilgrimage which is to start on Friday. The measure was introduced to avoid the repetition of the deadly 2015 stampede at the religious event which killed over 2,400 people.
The ID bracelet is made of plasticized paper and carries a bar code which can be scanned by a smartphone, the Saudi vice secretary of the ministry of hajj and umrah, Issa Rawas, told AFP. He added that the bracelet carries the identity and nationality of each pilgrim as well as his place of lodging in Mecca.
The authorities may also learn about the pilgrim's delegation and his visa details, the official added.
"The aim is to equip all pilgrims" from abroad, he said, however, without specifying the exact number of bracelets which have been issued.
Rawas added that some 1.4 million pilgrims are expected to come for the holy festival.
AFP reported seeing many pilgrims wearing such bracelets near the Great Mosque of Mecca.
According to Nabil Melhem, 61, a Palestinian bricklayer from the Israeli-occupied West Bank, the bracelet costs some two riyals (53 cents).
It is "like a passport," Melhem said. "If we get lost, if we die, if we are sick or unable to talk, they can contact our delegation, thanks to the bracelet."
Drissa Conakry, a Nigerian pilgrim, said that hotel staff "put this bracelet on us as soon as we arrived."
"I tell myself that, at least, I am identified," Conakry added.
The information that e-bracelets would be introduced during 2016 hajj pilgrimage appeared in media in June this year. The official Saudi Press Agency (SPA) said that they would be water-resistant and contain personal and medical information.
Hajj, annual Islamic pilgrimage to Mecca, must be carried out at least once in the life of each Muslim. This year the pilgrimage starts September 9 and will last till September 14.
Hajj celebrations last year turned into mass stampede which killed more than 2,400 people, according to the Associated Press estimates.
The tragedy took place September 24 near an exit from a monorail train station that was close to the tent camps accommodating thousands of pilgrims who had come for the five-day celebration of Islam's second-biggest holiday, Eid Al-Ahda.
Iran was most affected by the tragedy with at least 464 deaths. Mali said it lost 305 people, while Nigeria lost 274. At least 190 pilgrims from Egypt were killed.
The previous record for deaths dates back to 1990, when 1,426 people were killed in a stampede inside a pedestrian tunnel leading out of Mecca towards Mina.
You can share this story on social media: