2,400 pilgrims died in Mecca's Hajj stampede, three times Saudi official toll – report
The number of victims in the horrific stampede in Mina in September was at least 2,411 pilgrims, according to an independent count. This is more than three times the number that Saudi Arabia has acknowledged, the Associated Press revealed.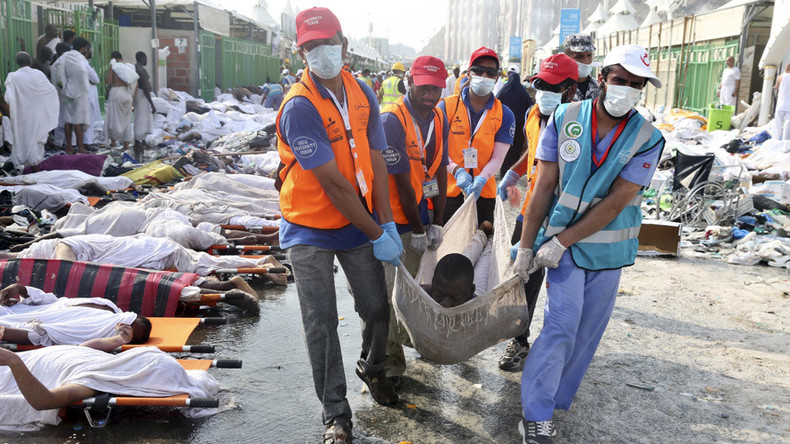 The new number makes the September 24 stampede the deadliest Hajj incident on record in Saudi Arabia involving Muslim worshipers that come to venerate the holy sites of Islam in the Gulf kingdom.
The new death toll of 2,411 victims was based on AP analysis of state media reports and officials' comments from 36 of more than 180 countries whose citizens were attending the Hajj.
Meanwhile Saudi officials, who pledged to investigate the incident, have not issued any revision of an official count of 769 deaths that was made two days after the tragedy.
The stampede on September 24 happened near an exit from a monorail train station that was close to the tent camps accommodating thousands of pilgrims who had come for the five-day celebration of Islam's second-biggest holiday, Eid Al-Ahda.
Since the tragedy, state-run Saudi Press Agency has made no mention of the investigation since October 19, even after previous AP investigation revealed Mina stampede death toll has surpassed 1,450 people.
READ MORE: 1,453 people died in Mecca's Hajj stampede – media toll
Iran was most affected by the tragedy with at least 464 deaths. Mali said it lost 305 people, while Nigeria lost 274. At least 190 pilgrims from Egypt were killed.
The previous record for deaths dates back to 1990, when 1,426 people were killed in a stampede inside a pedestrian tunnel leading out of Mecca towards Mina.
You can share this story on social media: