Camerawoman who kicked fleeing refugees charged in Hungary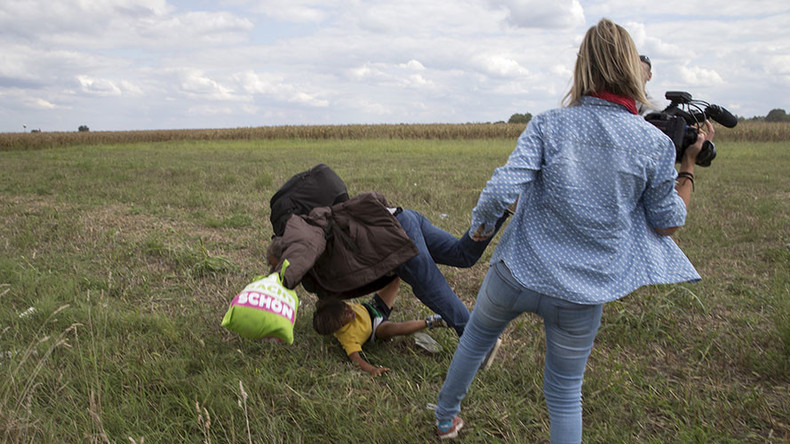 A camera operator who was filmed kicking and tripping refugees fleeing Hungarian authorities near the southern border with Serbia, has charged with a 'breach of peace'.
Petra Laszlo was fired from her job at Hungarian TV station, N1TV after footage of the incident sparked international outrage last September.
Disorderly conduct charges have been filed against Laszlo, according to Hungarian newspaper Magyar Nemzet.
The Public Prosecutor's Office of Szeged added in a statement that there was no evidence that Laszlo's actions was a racially motivated hate crime,
Prosecutors described how hundreds of migrants broke through a police cordon and out of a holding area in the direction of Szeged, a nearby city.
Laszlo was directly behind the police officers, filming the migrants as they fled.
Prosecutors said in a statement that during filming Laszlo "kicked a young man in the shin with a swift kick of the sole of her right foot, and also kicked young girl around the knee with her right foot," according to Reuters,
They noted, however, that although she kicked "toward" a man carrying a small child - one of the high-profile accusations against her - she did not make contact with the man.
"(Laszlo) kicked toward a man carrying a child in his hands, but the kick did not reach the man. The man carrying the child still fell, because... one of the policemen tried to catch and restrain him, and he lost his balance as he broke free," the authorities said.
The man, a soccer coach called Osama Abdul Mohsen, gained worldwide sympathy after the video and was offered a job as a football coach in a school in Spain.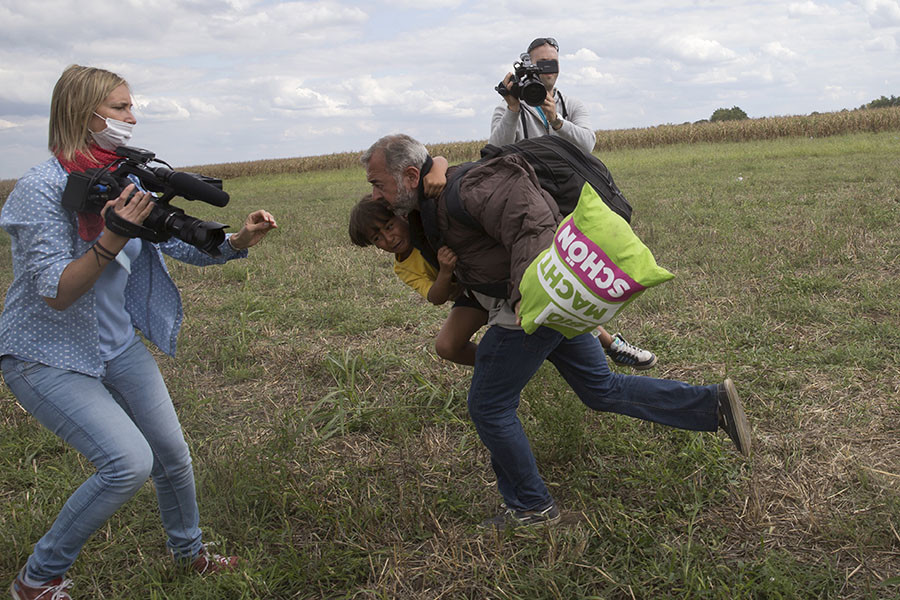 READ MORE: Goal! Tripped Syrian asylum seeker scores football coaching job in Spain
'Breach of peace' crimes in Hungary carries a maximum sentence of two years in prison unless there are aggravating circumstances. Laszlo's trial will be held in Szeged, but a date has yet to be confirmed.
Zsolt Kopasz, the chief prosecutor of Csongrad County told AFP there was no "reasonable chance" for Laszlo's actions "to cause injury."
Laszlo was vilified by many following the release of the footage. She has since apologized for her actions and said she acted out of fear and was trying to help the police.
She told Russia's Izvestia newspaper last October that her life was ruined and she was planning to sue Facebook for prejudice and allowing the spread of hatred against her.
READ MORE: 'I was scared': Hungarian journo 'regrets' kicking refugees, denies being racist
Laszlo was not immediately reachable for comment following the announcement of her pending prosecution, according to Reuters.
Mixed reaction greeted the news online, with some suggesting it was about time the camera-woman was charged while others felt the indictment was harsh and believed she was assisting police
You can share this story on social media: