Goal! Tripped Syrian asylum seeker scores football coaching job in Spain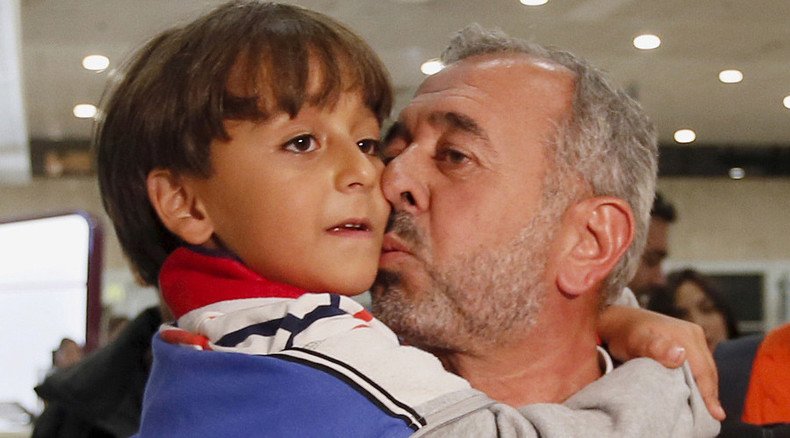 The Syrian father who was tripped by a Hungarian camerawoman while fleeing police at the Serbia-Hungary border has been offered a job in Spain. 
Osama Abdul Mohsen came into the spotlight after a video emerged of Hungarian camerawoman Petra Laszlo tripping him over as he was attempting to cross the Serbia-Hungary border.
He ended up in Germany, where media reports unveiled that he was a football coach in Syria.
Upon learning this, Spanish football school Cenafe in Getafe, near Madrid, offered help in the form of a job, housing, food and clothes.
"The future will be very good for my son in Spain," Mohsen told the Spanish press.
The father traveled from Munich to Spain by train on Wednesday with his son Zaid, whom he was holding when he was tripped, and his other son who was also in Germany.
While Cenafe is willing to help Mohsen in applying for asylum, it noted that in order to start his job, the prospective coach would have to learn Spanish first.
The school, reportedly together with other local social authorities, is working on how to bring the rest of Mohsen's family to Spain as well. His wife and two other children are in Turkey.
Getafe's mayor told a press conference that Mohsen would also be given the chance to work with the city's football club, Getafe FC.
Spain has agreed to take in more than 17,000 refugees this year under a general European Commission plan.
READ MORE: Hungarian journo 'regrets' kicking refugees, denies being racist
Hungarian channel N1TV fired Petra Laszlo after footage of her tripping over and kicking other refugees, including a young girl, made the news.
Zaid Mohsen was so distressed by the accident that he cried for two hours after the fall. He was left with bruises and was sick from shock.
The camerawoman later apologized, saying that "she panicked" and had "wanted to protect herself."
You can share this story on social media: