'My life is ruined': Refugee-tripping Hungarian camerawoman to sue Facebook, may move to Russia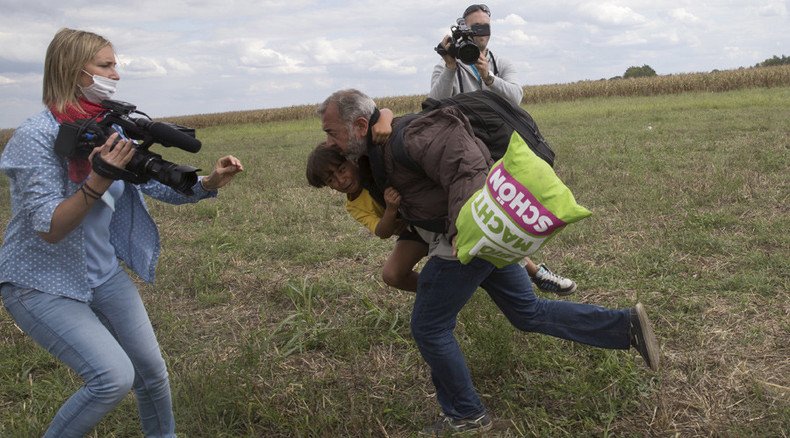 A Hungarian camerawoman fired for kicking refugees is going to sue Facebook for bias and helping to fuel hatred against her, a Moscow-based daily reported. She is also considering moving to Russia.
In September, reporters covering the EU refugee and migrant crisis on the Hungarian-Serbian border caught Petra Laszlo tripping a refugee with a child in his hands on camera. The incident blew up into a major international scandal in the days following.
The accused camerawoman, Petra Laszlo, who worked for Hungary's N1TV at the time, has apologized, saying it was a mistake. She explained in earlier statements that she had panicked and wanted to protect herself when hundreds of asylum seekers broke through a police cordon in a field and ran in her direction.
In an interview with Russia's Izvestia newspaper published on Tuesday, Laszlo clarified that she was only "trying to help police," as the refugee had not obeyed orders.
"I pushed him only because I was afraid. I did not see that there was a child. I'm sorry that it turned out this way," she told the paper.
Laszlo says her life has never been the same since the incident. She has been dubbed a "heartless, racist, children-kicking camerawoman," fired from her job, and threated by haters following the scandal.
Meanwhile, the Syrian Kurdish Democratic Union Party (PYD) has claimed that Osama Abdul Mohsen, the man tripped by Laszlo, was a member of the Al-Qaeda-linked Al-Nusra Front and had committed crimes against civilians. The allegations did not change public opinion, however.
"I can definitely say that my life is ruined. It's unlikely that I will be able to find a job and do what I like the most," she told the paper.
The camerawoman said that at least 10 fake 'Petra Laszlo' accounts containing improper contents have appeared on Facebook and some people have offered some $20,000 for her murder via these groups.
One such group still exists under the name "Petra Laszlo," which boasts more than 10,000 likes on Facebook.
Laszlo told Izvestia that she asked Facebook's management to delete these groups, but claims her letters and complaints to Facebook have been left unattended and that, instead, the social network has intentionally deleted groups supporting her.
She told the paper she plans to sue Facebook for its prejudice. According to the paper, she also wants to prove that the asylum seeker she tripped had been untruthful, because the man has changed his testimony in court. She said that he had initially blamed a police officer for the incident, but later began accusing her.
"Once the court is over, we're going to move to another country," said Petra Laszlo, mentioning Russia as a likely destination for immigration. "We consider starting to learn Russian. It is important for us to leave Hungary. We'll make the decision once the trial is over," she said.
You can share this story on social media: