ISIS-linked extremists stage mass jailbreak in Philippines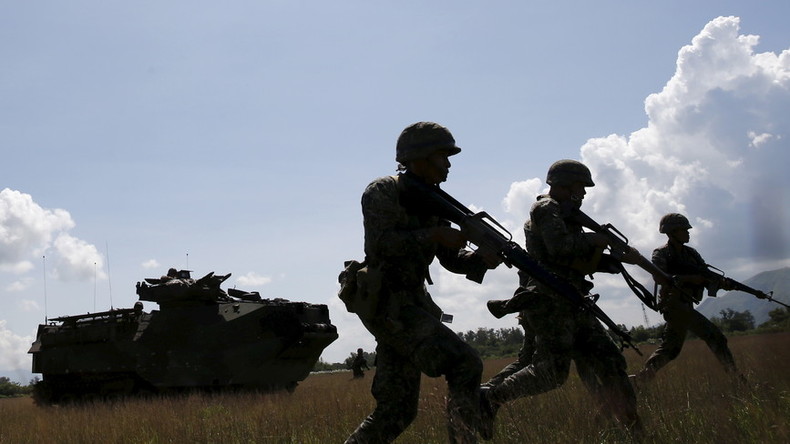 Muslim extremists believed to be linked to Islamic State (IS, ISIS/ISIL) have planned and carried out a massive jailbreak in southern Philippines prison. An armed group of 50 raided the jail, freeing 23 detainees, media cited officials as saying.
READ MORE: ISIS video appears to show children, including 1 Briton, executing Kurdish captives
The escape plan began with two women coming to the prison gate in the city of Marawi on Mindanao Island under the pretense of delivering food for the detainees.
As soon as the gates were opened, 50 armed men stormed the place, overwhelming the guards, AFP quoted provincial jail warden Acmad Tabao as saying.
The hooded men proceeded to free eight of their own members who were imprisoned just a week ago. Amid the chaos, another 15 detainees made their way out of the prison. All of the inmates were jailed for serious offenses, Tabao said.
READ MORE: 5yo girl becomes youngest fatality of Philippines govt's 'war on drugs'
As the men were leaving they shouted "Allahu Akbar" (God is great). The group fled in a prison vehicle to a nearby lake and then got onto a boat. The rest of the inmates who escaped ran away in various directions.
The damage to the prison itself was minimal, with AFP reporting two bullet holes and a broken TV set.
The armed men who planned the jailbreak were members of the Maute group, which is a Muslim gang in Mindanao that was previously seen carrying Islamic State flags and bandanas, according to the military.
Eight of their members were arrested on August 22 after soldiers found bombs and weapons in the van the men were driving.
The island has a sizable Muslim population, which is in stark contrast to the rest of Philippines, which is largely a Catholic country.
In the past, the Maute group was involved in bombings and kidnappings. One of its latest attacks was on the Mindanao town of Butig in February.
The jailbreak is currently being investigated with authorities raising questions why security at the prison was not heightened after high-risk prisoners arrived a week ago.
READ MORE: 'Hey ISIS, you suck!' Muslims' war of words ad campaign prompts rubbernecking in Arizona
Jailbreaks are fairly common in poorly secured Philippine jails. One of the most notorious escapes took place in 2009 when over 100 armed men stormed the prison in the southern island of Basilan, freeing 31 inmates.