'Hey ISIS, you suck!' Muslims' war of words ad campaign prompts rubbernecking in Arizona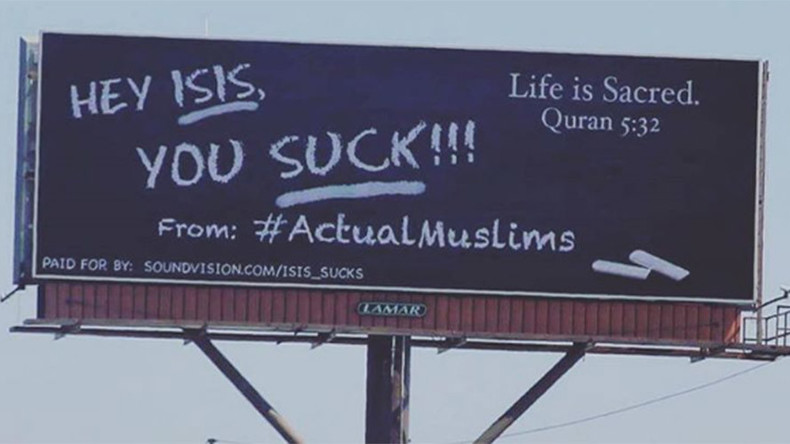 Billboards have popped up in Chicago and Phoenix with the blunt message, "Hey ISIS, you suck!" as part of the beginning of what might be a national advertising campaign to combat both Islamophobia and radical Islam.
The billboard, which intimates a blackboard shows the chalk-written statement, "Hey ISIS, you suck," signed by "#ActualMuslims."
Read more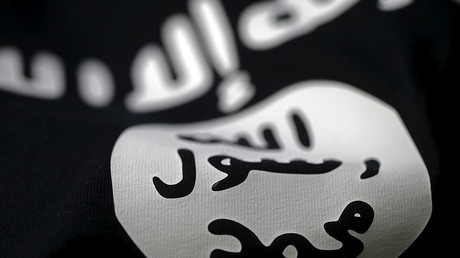 ISIS is an acronym used to refer to Islamic State (IS, formerly ISIS/ISIL). The sign references a line of verse in the Quran, which states if a person kills another, it's "as if he had slain mankind entirely."
The billboards have appeared so far in a parking lot near Interstate-10 in Phoenix, Arizona and on a highway leading toward Chicago, Illinois' O'Hare International Airport.
The Chicago-based Sound Vision Foundation, an Islamic public relations organization and non-profit, is the innovator of the campaign.
"Our neighbors don't realize that Muslims are absolutely opposed to ISIS," Imam Abdul Malik Mujahid, Chicago told CBS News. "ISIS actually kills more Muslims than anyone else."
Imam Mujahid said the attacks in Europe and the US caused his Chicago group to get more pro-active. Young people came up with the blunt slogan, because they wanted to keep the language simple.
The billboard has started to catch attention with Muslim groups in 15 other cities, who are reportedly requesting a sign be installed in their area.
"ISIS and Islamophobia are the two sides of the same coin which is hurting Islam, as well as humanity," Imam Mujahid told CBS News. "They are increasing fear, hate, anger which is dividing a beautiful nation."
"The KKK was defeated by good Christians, ISIS needs to be defeated by good Muslims," he added.
"Behind this billboard are the common people," Sound Vision Executive Director Mohammad Siddiqi told KPHO. "This is our declaration of independence against ISIS. It's as simple as that."