5yo girl becomes youngest fatality of Philippines govt's 'war on drugs'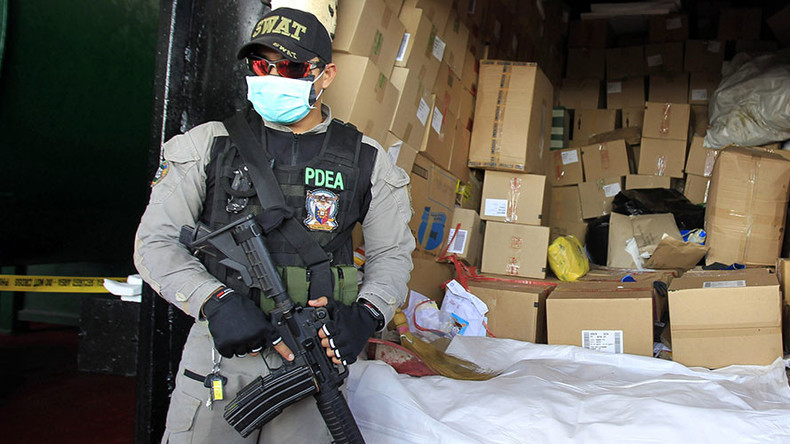 A five-year-old girl has become the latest victim of the Philippines' controversial "war on drugs." The campaign, which has left more than 1,900 people dead in just seven weeks, has been slammed by the UN and human rights groups.
Danica May was killed by a gunshot to the head as she sat down to eat lunch with her family on Tuesday in the city of Dagupan, located north of Manila, the Inquirer reported.
It all began when the five-year-old's grandfather, Maximo Garcia, was told last week that he was on a list of alleged drug suspects that someone had passed to police.
His wife Gemma said she was shocked to hear the news, as he was a tricycle driver who had suffered a stroke and never been involved in drugs, the Inquirer newspaper reported.
When the village chief told Garcia to surrender to police, he followed orders rather than risk being shot. Garcia was questioned by authorities and eventually allowed to return to his home.
However, gunmen came to Garcia's house three days later and shot him as he fled to the back of his house. Danica was also shot, and later died in hospital.
"This is so painful to us," Danica's grandmother, Gemma Garcia, said. "I would miss the nights when Danica would massage us until we fell asleep. I would miss her laughter when she teased her mother."
Danica's grandfather is recovering from a bullet wound to the stomach, but his wife fears the killers may not be finished.
"We are afraid to stay here. But the problem is where will we go? The killers may come back for my husband," she said.
Danica is the youngest person to die in the Philippine government's "war on drugs," which has seen 1,900 people killed in just seven weeks.
The anti-drug operation is the project of the country's new president, Rodrigo Duterte, who came to power with a promise to combat the illegal drug trade by initiating a nationwide drug war.
More than 650 people have been killed in battles with police officers since June, while more than 1,000 others have been killed by vigilantes who often leave cardboard signs declaring that their victims were drug peddlers.
The new Philippine president, himself, has encouraged vigilantes to take matters into their own hands.
"If you know of any addicts, go ahead and kill them yourself, as getting their parents to do it would be too painful," Duterte told cheering crowds of supporters in July, a day after entering office.
More than 600,000 drug suspects have surrendered since early July, and there have been reports of dozens of others being attacked after being allowed to return to their homes.
Duterte's hardline campaign has been slammed by the UN, Human Rights Watch, and other human rights groups.
UN special rapporteur on summary executions Agnes Callamard urged the Philippines to stop extrajudicial executions and killings or face punishment for "illegal" acts.
In response, Duterte threatened to withdraw from the "inutile" body.
"I don't give a sh*t about [the UN]," he said. "They are the ones interfering. You do not just go out and give a sh*tting [sic] statement against a country."
Meanwhile, the US – a close ally of the Philippines – has said it is "deeply concerned," and urged Duterte's government to respect human rights regulations.
Duterte has vowed that the fight against drugs "will continue until the last day of my term."