'Not butchers': Philippines police chief denies brutality as over 1,900 killed during war on drugs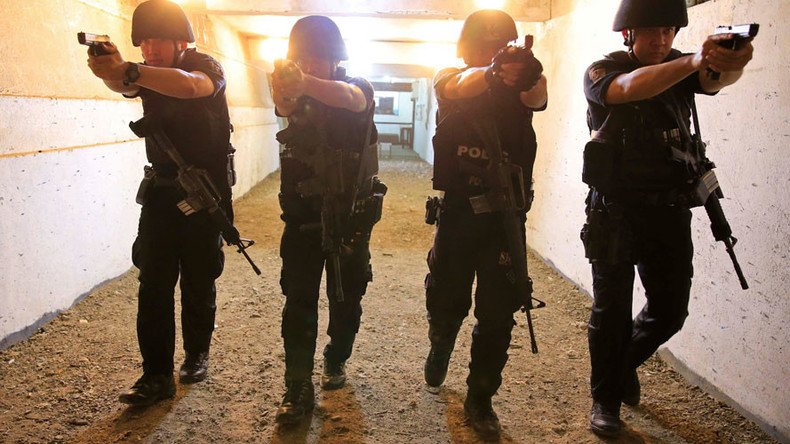 Police taking part in a large-scale anti-drug operation in the Philippines which started after the president took office are "not butchers," the police chief has said, adding there is no declared policy to kill drug users and pushers.
Several weeks into the tenure of Rodrigo Duterte, the hardline president, the Philippines' anti-narcotics operation is in full swing despite pressure from human rights groups and Manila's international partners.
On Tuesday, Ronald dela Rosa, director-general of the national police, was summoned to parliament to explain the "unprecedented" rise in the body count and reported surge in vigilante killings, Reuters reported.
"We are not butchers," he told MPs.
Nearly 700,000 drug users and peddlers have turned themselves in, dela Rosa added, claiming that the overall crime rate has improved. Murders and homicides, however, increased.
The police chief said that around 750 people have been killed during police raids against drug peddlers, with another 1,100 fatalities being investigated. "Not all deaths under investigation are drug-related," he noted.
The all-round anti-narcotics crackdown has been launched by President Duterte, who came to power with a promise to focus domestic policy on combating the illegal drug trade by initiating a nationwide drug war.
"If you know of any addicts, go ahead and kill them yourself as getting their parents to do it would be too painful," Duterte told cheering crowds of his supporters in July, a day after entering office. At the same time the president pledged to remain within the boundaries of the law.
The campaign has sparked widespread criticism internationally, with Human Rights Watch calling on the United States – the Philippines' close ally – and the EU to "make it clear to Duterte that inciting such violence is unacceptable and will reap potentially severe diplomatic and economic costs."
Washington said it was "deeply concerned" over reports of the killings and the State Department urged Duterte's government to respect human rights regulations, according to Reuters.
In turn, Duterte threatened to withdraw from the "inutile" United Nations. He added that the Philippines could invite China, African nations and other countries to create a rival international body.
"I don't give a sh*t about [the UN]," Duterte said. "They are the ones interfering. You do not just go out and give a sh*tting [sic] statement against a country."

The angry rant came after Agnes Callamard, UN special rapporteur on summary executions, urged the Philippines to stop extrajudicial executions and killings or face punishment for "illegal" acts.
You can share this story on social media: