St. Pete to Rio on foot: Russian pensioner walks 18,200km to his 'dream city'
A 60-year old Russian travel enthusiast has transcended continents, crossed a dozen countries, and walked over 18,270 kilometers to reach his dream city of Rio, and his remarkable round-the-world trek, which started 17 months ago, may not be over yet.
"On average I walk some 50-60 kilometers a day, which makes it some 500 days' journey," Sergey Lukyanov told RT's Ruptly agency.
He embarked on the adventure from Russia's "northern capital" of St. Petersburg on April 1 of last year. However, what might seem like an April fool's joke was actually the beginning of a childhood dream come true.
"Yes, of course, it was a childhood dream to visit Rio de Janeiro that I got from books," Lukyanov said.
The traveler had long nourished the idea of setting upon a journey around the world, but did not dare to go about actually realizing it until now.
Lukyanov's route has run thorough China, Kazakhstan, Vietnam, Laos, Thailand, Malaysia, and Singapore, where he boarded a plane bound for South America in order to cross the Atlantic Ocean. After he landed in the Chilean capital of Santiago, he continued his journey on foot.
Read more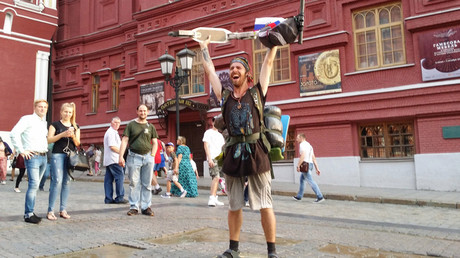 The wanderer trekked across Argentina and Uruguay before finally arriving at the Summer Olympic Games in Brazil's capital.
His enjoyable but, no less, perilous journey was made possible thanks to the tremendous support he received from volunteers around the world. Some donated money for Lukyanov's ticket, while others helped him get visas. People would welcome him everywhere, giving him food and shelter.
Lukyanov's initial goal was to arrive in Rio by the start of the Olympics on August 5, but unsuspected health problems prevented him from sticking to the schedule, as he had to undergo a surgery and lost about 45 days overall.
Lykianov is no ordinary hiker, as he is a Russian Master of Sport, as well as Russia's and the USSR's record holder in the 100-kilometer walk. He has competed more than 150 times at various distances during his 50-year career.
READ MORE:64yo Russian adventurer circles globe in balloon in 11 days, breaking world record
He plans to stay in Brazil until August 18 and fulfill his cherished dream of meeting Pele, arguably the greatest Brazilian football player of all time
The Russian seems unstoppable and plans to finish his journey in the spring of 2017 by walking into St. Petersburg on the final leg of his 32,000 kilometer trip. At the moment, he is having some rest and working out his route, which may take him to Africa.