Gulen supporters in Netherlands accuse Turkish government of 'witch-hunt'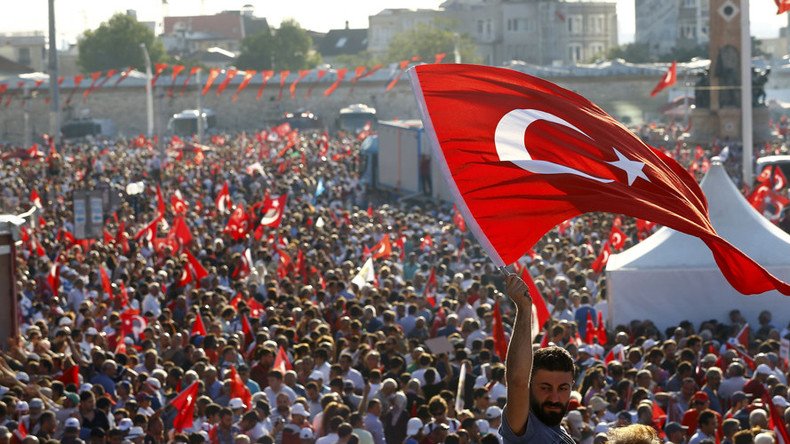 Dozens of Turks living in the Netherlands who support exiled preacher Fethullah Gulen have been assaulted and received death threats, while several buildings hosting groups affiliated with the cleric were set on fire in the wake of Turkey`s failed coup attempt.
"They have unleashed a witch-hunt that is causing a lot of tension between Dutch Turks," said Saniye Calkin, who chairs a local Hizmet organization. She was referring to the Turkish government's crackdown on supporters of Gulen, which has apparently even reached the Netherlands, which as around a 500,000-strong Turkish community.
The activist says there have been multiple reports of arson, vandalism and attacks against Gulenist supporters in the Netherlands, which has been heightened by President Recep Tayyip Erdogan`s personal resentment of the cleric.
"These are signs of Erdogan's interference in the Netherlands and it is threatening my freedom and safety," she added, speaking to journalists on Friday.
READ MORE:Dutch journalist held in Turkey over Erdogan tweets says her Amsterdam flat was burgled

Over the past two weeks, two properties belonging to the organizations affiliated with the Gulen movement in the cities of Apeldoorn and Deventer in central areas of the Netherlands were reportedly set ablaze by Erdogan's supporters.
Serhat Ozasik, the secretary of the Apeldoorn–based Union of Concerned Parents (UVBO), one of the groups targeted by the arsonists, said that prior to the attack the activists had been threatened by the Turkish government`s supporters, who wanted to destroy their office.
"For a week I hardly dared to go out. Last Friday I did not come to the mosque. It is better to avoid confrontations with Erdogan's supporters," he said following the incident, as cited by De Volkskrant.
READ MORE:Dutch professor renounces Turkish award, brands Erdogan 'de-facto dictator'

"I don`t know how this is going to end. There is an upward trend in the threats", he added.
An employee of the Golden Generation, a Gulenist institution, was attacked in Deventer last Friday and said they had been forced to temporarily shut down the center due to Erdogan's attacks on the cleric.
The incidents of violence against various Gulenist organizations have been also reported across the Netherlands, including, in Rotterdam, Zaandam, Utrecht and Eindhoven. People were seen throwing stones and smashing windows of the offices.
With tensions flaring amongst the Turkish community in the Netherlands, the Dutch ministry of social affairs and employment has spoken to officials from eighteen municipalities where Dutch Turks predominantly reside and where there have been reports of related violence. The ministry gave them advice on how to deal with the alarming situation.
Dutch Labor MP Ahmed Marcouch even appealed to the country`s Prime Minister Mark Rutte urging him to pay more attention to the unraveling crisis and warning of more problems to come as "indoctrinated Turkish-Dutch holidaymakers, instigated by a month of hefty accusations made on state television" return back to Netherlands from Turkey, as cited by AD.
One foundation that runs a number of Turkish mosques in the Netherlands is even reported to have compared members of the Gulen movement to the terrorists from Islamic State and Boko Haram.
Gulen has fiercely denied accusations that he was behind the coup to oust Erdogan and has alleged that the Turkish president could have staged the July 15 coup himself for his own personal gain.
During a visit to his estate in Pennsylvania, RT filmed Gulen, who refused to speak to the press but wished to confirm he has not fled to another location contrary to the claims by some Turkish officials.
This is not the first time Turkey has been accused of attempts to interfere with the Dutch internal matters through its Turkish diaspora.
In April, the Turkish General Consulate in Rotterdam called on the Turks to effectively spy on their fellow citizens, asking them to report "messages from people who are insulting our president, the Turkish nation or Turkey in general."
However, despite the consulate later issued a statement, blaming an "unfortunate choice of words" which caused the uproar, Rutte said he would ask for clarification regarding the incident.
Also in April, a Dutch journalist Ebru Umar, known for her feminist and atheist views, was briefly detained in Turkey over a social media post, in which she lambasted President Erdogan.
Netherlands is a home to some 500,000 Turks, the majority of whom are descendants of Turkish migrant workers that settled in the country in the 1960s and 1970s.
The Turkish authorities have detained over 18,000 people in a massive crackdown on the military and civil service, with members being implicated in the coup, Interior Minister Efkan Ala said on Friday.
You can share this story on social media: