Dutch professor renounces Turkish award, brands Erdogan 'de-facto dictator'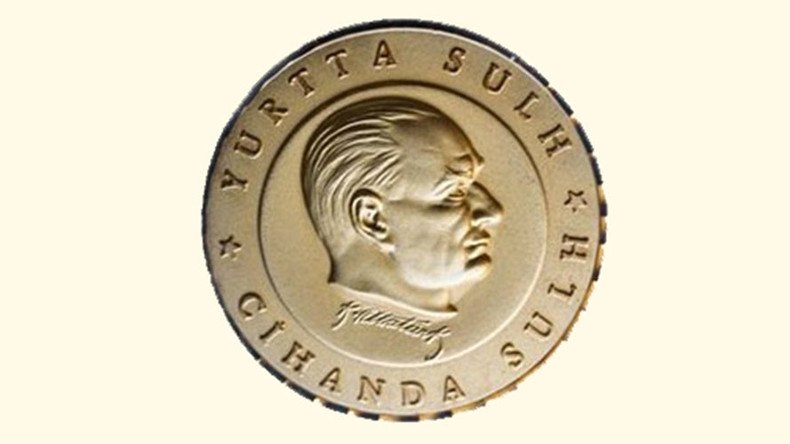 A Dutch professor, given a medal for advocating Turkish integration into the EU, is returning the award. He now says that under "de-facto dictator" Erdogan, Turkey cannot be a member of the European bloc.
Professor Erik-jan Zurcher, who works at Leiden University in the Netherlands, received the "Medal of High Distinction" of the Republic of Turkey from then-Foreign Minister Abdullah Gül back in 2005.
"I received the award, consisting of a diploma and a gigantic gold medal, during a festive ceremony at the Turkish embassy in The Hague. The reason I was deemed worthy of the medal was that in the preceding years I had actively tried to inform the Dutch politicians and the public in general about Turkey and to combat prejudices," Zurcher said in a statement released by Leiden University.
Zurcher said that back in 2002-2004 he advocated that the new Turkish government of then-Prime Minister Recep Tayyip Erdogan (2003-2014) "was democratizing Turkey at breakneck speed."
"My small contribution in those years was to argue… that Turkey could indeed be a part of the EU, because it shared a history with Europe," said Zurcher, who specializes in the period of transition from the Ottoman Empire to the Republic of Turkey.
The professor had said the fact that 98 percent of Turkish citizens were Muslims "should not stand in the way of Turkey's entry, because Islam, too, was part of European history."
However, Zurcher now says his expectations about true democracy in Turkey were completely wrong.
READ MORE: Dutch columnist detained in Turkey 'over Erdogan tweet'
"I ignored warnings from secularist Turkish friends that Erdogan was only using the EU and the accession process to destroy his internal enemies and gradually to increase the role of Islam in society, seeing them as short-sighted fear-mongering. I was wrong, however, and they were right."
Zurcher points to facts that he says show the Turkish authorities' abuse of human rights and freedom of speech. These include Turkey's military operation against the Kurds in the country's southeast and its crackdown on different forms of media.
He also mentioned Ankara's persecution of journalists "who report on secret arms deliveries of the Turkish secret service to Syrian jihadists," apparently referring to the recent five-year sentences handed down to Can Dundar, the editor-in-chief of Turkey's Cumhuriyet newspaper, and Erdem Gul, chief of the paper's Ankara bureau, on charges of "revealing state secrets."
The professor added that Turkey is trying to make Islamic values ever-more dominant in the public space: "in most places finding a prayer room is now a lot easier than a seller of alcoholic beverages."
"All of this has convinced me that the Turkey of Tayyip Erdogan cannot and should not become a member of the European Union – ever."
The professor is sure that a country "where politics, the legal system, the media, universities and individuals - even if they live in Europe - have become playthings for a de-facto dictator, where the fundamental freedoms and the rule of law have ceased to function, cannot be a European country."
Having considered these factors, Zurcher has decided to return his award to the Turkish embassy. He explained that as a professor of Turkish studies he is seen as an authority on Turkey, and has a responsibility as such.
READ MORE: Turkish court sentences two journalists to over 5yrs for 'leaking state secrets'
"I have to do it as a sign of protest against the dictatorial misrule of Erdogan in Turkey but also in recognition of the fact that I was wrong 12 years ago: Turkey has not come closer to Europe. So far away that membership is no longer a realistic option. Our political leaders should say so loud and clear. Enough is enough."
You can share this story on social media: