RT visits Erdogan's self-exiled arch-nemesis Fethullah Gulen at his US estate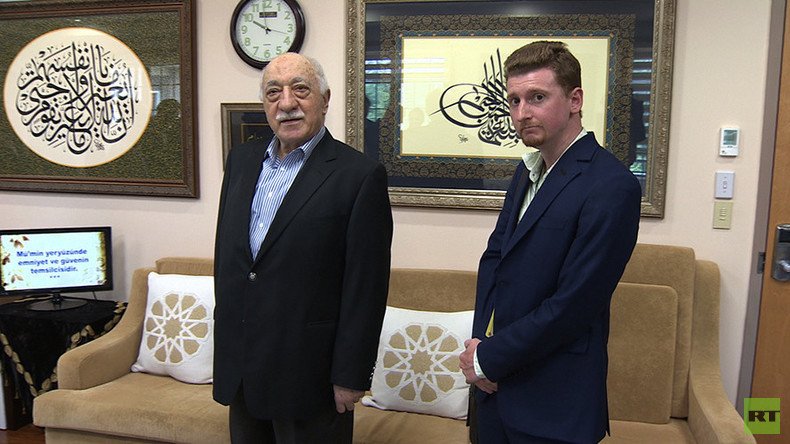 An RT reporter has met with "Turkey's most wanted man," Fethullah Gulen, a powerful preacher who has been living in self-exile in the US state of Pennsylvania. Ankara blames the scholar for the recent coup attempt in Turkey and wants him extradited.
Reporter Caleb Maupin and an RT America crew were invited to visit Gulen at his estate in rural Pennsylvania. Although the renowned Turkish cleric did not wish to speak to the press, he made it clear that he hasn't left his highly secured American home, despite Ankara's suggestions he might be on the run.
Immediately following the failed coup attempt on the night of July 15, Turkish President Recep Tayyip Erdogan blamed Gulen and his supporters for attempting to seize power in Turkey.
Erdogan has demanded the cleric's arrest and extradition from the US, but Washington has repeatedly responded by saying it needs clear evidence of a link between Gulen and the attempted coup before it will consider extraditing him.
READ MORE: Turkey-US ties will suffer unless Gulen extradited, foreign minister says
Turkish officials have previously suggested that the moderate Islamic preacher might have already left North America and could be on the run, mentioning Australia, Mexico and South Africa as possible refuges.
"We know that he could have left for a number of other countries," Turkish Foreign Minister Mevlut Cavusoglu told CNN Turk earlier this week, and Turkish Justice Minister Bekir Bozda has suggested to Haberturk TV that Gulen could have fled the US.
Born in 1941, Fethullah Gulen had become a popular preacher in Turkey before a military coup in the 1980s. Afterwards, he resigned his post as cleric and founded the Hizmet movement, which is considered by its supporters to be a modern face of Islam. As then-president-to-be Erdogan rose in Turkish politics, Gulen and his movement firmly supported the future PM who would later become the state's leader.
Gulen left his native country for the US in 1999 and has not returned. His supporters in Turkey were accused of recording and leaking incriminating conversations involving the president, his relatives, and other top officials in 2013 and 2014. Gulen was then accused of orchestrating a coup. He now faces a potential life sentence in Turkey.
You can share this story on social media: