Turkey-US ties will suffer unless Gulen extradited, foreign minister says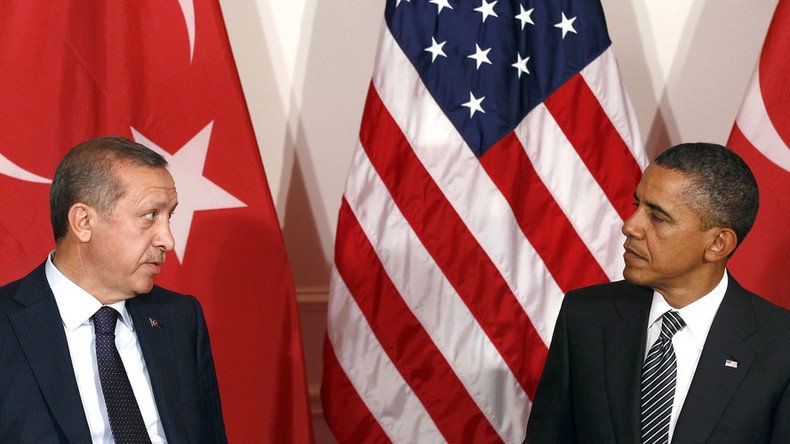 Turkey's Foreign Minister Mevlut Cavusoglu has said that the ties with the US could turn sour unless Washington extradites cleric Gulen, who, according to Ankara, is behind the failed coup.
Follow LIVE UPDATES on Turkey's post-coup crackdown
His statement comes ahead of his trip to the US, and he said he would discuss the relations with US officials during the visit.
Washington has repeatedly said that Turkey must give clear evidence of Gulen's link with the attempted coup before discussing any possible extradition. Lawyers have said the process, if launched, may take years.
Cavusoglu also said Turkey may remove some ambassadors linked to the coup attempt.
Cavusoglu warned the EU that it "can't threaten Turkey."
"We're protecting European values. EU officials often say what they think, but when it turns into a threat, it becomes counter-productive."
Earlier on Monday, EU Commission President Jean-Claude Juncker told broadcaster France 2 that he believes that"Turkey, in its current state, is not in a position to become a member any time soon and not even over a longer period."
He added that a country that approved the death penalty would be unfit to be a member of the EU.
Following the failed coup attempt, Turkish President Recep Tayyip Erdogan didn't rule out the possibility of re-introducing the death penalty in the country, claiming that "people on the streets made that request."
The death penalty was abolished in Turkey in 2004 because it had been one of the conditions essential for the country to join the bloc, though nobody has been executed since 1984.
Since the failed coup on July 15 which saw at least 265 people killed, over 10,000 people have been arrested in Turkey, with the majority of those held by the authorities being military men. Some are also judges and civil servants.
More than 37,500 police staff and civil servants have been suspended, and more than 21,000 teachers have been stripped of their licenses.
Osman Faruk Loğoğlu, a former Turkish ambassador to the US, says "the 'purge' of civil servants, whether in the army or other institutions, is continuing."
"The latest statement by the Turkish foreign minister about the possibility of recalling some ambassadors indicates that the Foreign Ministry is also involved in this. But let's remember that the Gulen movement has been around for a long time and they had gathered strength mostly during the time of government of the Justice and Development Party (AKP)," he told RT.
While this "purge" may be seen as necessary from a political point of view, Loğoğlu added, human rights and the rights of individuals who are dismissed from public services - whatever their numbers are - should be protected.
You can share this story on social media: