#TurkeyPurge: Post-coup crackdown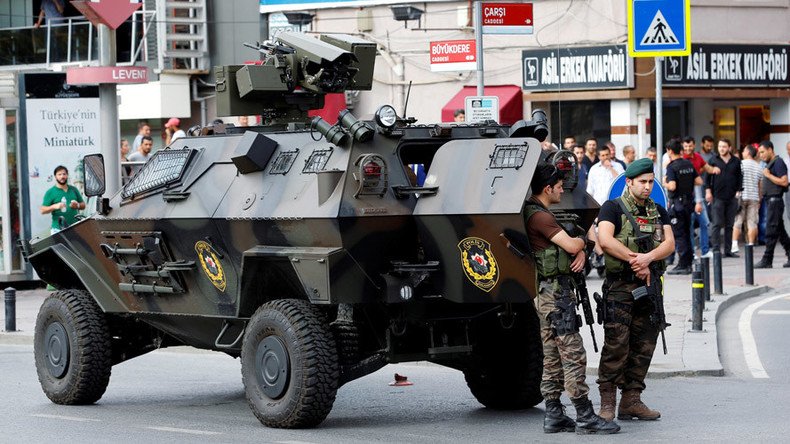 The Turkish government is continuing its crackdown following an attempted coup against President Recep Tayyip Erdogan. Around 60,000 soldiers, police, judges, teachers and civil servants have been suspended or detained.
27 July 2016

10:09 GMT

The Turkish military said on Wednesday that 8,651 soldiers took part in a failed attempt to overthrow the government earlier this month, accounting for about 1.5 percent of the army. In a statement carried by Turkey's NTV television, the military said the soldiers belonged to a "terrorist" network led by Fethullah Gulen, a U.S.-based Muslim cleric who has led a religious movement for decades. The armed forces said 35 planes, including 24 fighter jets and 37 helicopters, were used in the coup attempt on July 15 when at least 246 people were killed and more than 2,000 were injured. It said 37 tanks and 246 armoured vehicles were also used in the coup attempt and added that it has the power to put down any further threats. (Reuters)

09:52 GMT

Authorities in the United Arab Emirates (UAE) have arrested two Turkish generals alleged to have played a role in the attempted coup. Major General Mehmet Cahit Bakir, commander of the Afghanistan Turkish Task Force, and Brigadier General Sener Topuc, commander of the Train, Advise and Assist Command in Kabul, were detained at Dubai International Airport after fleeing from Afghanistan, Anadolu Agency reported. The UAE collaborated with Turkey and returned both generals to Ankara, according to the news agency.

09:30 GMT

Former Istanbul governor Huseyin Avni Mutlu has been detained as part of the investigation into the July 15 failed coup, Anadolu Agency cited a police source as saying on Tuesday. Mutlu's house is being searched, the source said. Mutlu occupied the Istanbul province governor's chair between 2010 and 2014, later taking a civilian position within the Interior Ministry. He was suspended from his position, along with 246 others.

09:15 GMT

Turkey's religious affairs directorate has so far removed a total of 1,112 personnel, including preachers and instructors in the Koran, since the July 15 failed military coup, it said on Tuesday. Turkish authorities accuse U.S.-based Islamic preacher and scholar Fethullah Gulen of orchestrating the abortive coup, in which at least 246 people were killed. Gulen, who denies the charge, has built up an extensive network of supporters, schools, charities and businesses in Turkey over decades. Separately, Turkish Foreign Minister Mevlut Cavusoglu told reporters that two ambassadors, currently based in Ankara, had been removed following the coup attempt. (Reuters)

25 July 2016

18:42 GMT

Turkish authorities are also investigating social network users that believe the military coup was a hoax carried out by the government to get a tighter grip on power, Minister of Justice Bekir Bozdag said in an interview with Turkish Kanal 7.

"Those in Europe or in other places who speak of the staged character of the coup must have been behind it as internal or foreign supporters of Gulen," he added.

15:26 GMT

An investigation into more than 5,000 staff working in Turkey's Health Department has been launched "in the framework of the State of Emergency Decree," local media reported, citing Health Minister Recep Akdag. Making the announcement, the minister reportedly expressed hope that "innocent" people would not suffer from the investigation that followed the failed coup.

11:01 GMT

Turkish Airlines, Turkey's state-run airline has fired more than 100 employees, including some in management positions, Turkish media reports, as cited by Reuters. A purge of state institutions continues to try and find supporters of the attempted coup against President Erdogan.

11:01 GMT

Turkey's Foreign Minister Mevlut Cavusoglu has said that ties with the US could suffer unless they extradite Fethullah Gulen, who Ankara believes was behind the attempted coup to oust Erdogan. Cavusoglu also threatened that some ambassadors may be removed who were linked to the attempted coup.

However, Washington has said on a number of occasions that Turkey must provide solid evidence of any links Gulen might have to the attempted coup before any possible extradition process is discussed.