Failed Turkish coup attempt sympathizers suffer torture & rape – Amnesty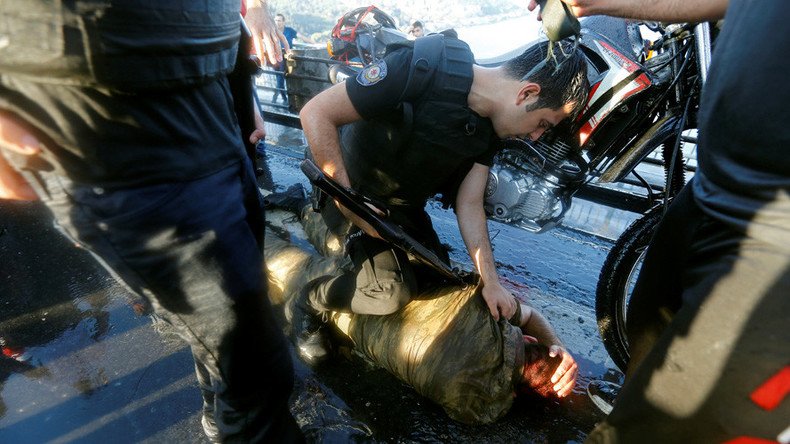 Amnesty International has gathered "credible evidence" that people arrested in relation to the past week's failed coup attempt have been often arbitrary detained, deprived of contacts with family and lawyers as well as go through "severe" tortures.
The detainees arrested over alleged links to the foiled coup attempt are being arbitrarily held, sometimes in informal detention places such as sports centers and stables. They are also not properly informed about the charges against them, Amnesty International said in a statement, published on its official website.
Some detainees, including at least three judges, were held in the corridors of courthouses.
Amnesty also obtained "extremely alarming accounts of torture and other ill-treatment of detainees" from their lawyers, doctors and a person on duty in a detention facility.
According to these reports, police held detainees in stress positions for up to 48 hours, denied them food, water and medical treatment, verbally abused and threatened them and subjected them to beatings and torture, including rape and sexual assault.
Based on the information given by a person on duty at Ankara Police Headquarters' sports hall to Amnesty, a detainee suffered severe wounds after apparently being beaten by police. He could not stand up or focus his eyes and he eventually lost consciousness. Police refused to allow this detainee to receive basic medical treatment and a police doctor reportedly said: "Let him die. We will say he came to us dead."
According to the evidence obtained by Amnesty, 650-800 male soldiers were being held in the Ankara police headquarters sports hall. At least 300 of them had signs proving that they were beaten, with some of them even having broken bones. About 40 were unable to walk because of serious injuries sustained in custody.
Amnesty also collected accounts of police officers saying that the detainees are being beaten so that "they would talk." Many detainees are also handcuffed behind their backs with plastic zip-ties and forced to kneel for hours or are blindfolded.
At the same time, Amnesty stressed that the worst treatment in detention was reserved for higher-ranking military officers. Two lawyers in Ankara told the NGO they saw senior military officers in detention being raped with a truncheon or finger by police officers.
Amnesty International interviewed more than 10 lawyers in both Ankara and Istanbul who gave information about the conditions of their clients' confinement. The lawyers represented up to 18 detainees each.
Most of their clients are soldiers but there are also judges, prosecutors, police, and other civil servants among them.
The interviewees also told the human rights organization that based on what detainees told them police deprived them of food for up to three days and water for up to two days. Some detainees are also reportedly in extreme emotional distress and even attempt suicide.
"Reports of abuse including beatings and rape in detention are extremely alarming, especially given the scale of detentions that we have seen in the past week. The grim details that we have documented are just a snapshot of the abuses that might be happening in places of detention," said Amnesty International's Europe director John Dalhuisen.
"It is absolutely imperative that the Turkish authorities halt these abhorrent practices and allow international monitors to visit all these detainees in the places they are being held," he added, stressing that "failing to condemn ill-treatment or torture in these circumstances is tantamount to condoning it."
Amnesty also stressed that depriving detainees of access to lawyers and family and holding them in unofficial detention facilities as well as arbitrary detentions amount to "enforced disappearance which in itself is a crime under international law."
This practice places detainees outside the protection of the law and cuts them off from the outside world, putting them at very high risk of torture or even extrajudicial execution, the NGO stressed.
Amnesty also emphasized that independent monitors must be allowed to access detainees amid torture allegations and called on the European Committee for the Prevention of Torture (CPT) to conduct an emergency visit to Turkey to monitor conditions of detention.
As a member of the Council of Europe, the Turkish government has an obligation to cooperate with the CPT, it said.
"Amnesty International urges the Turkish authorities to adhere to their obligations under international human rights law and not to abuse the state of emergency by trampling on the rights of detainees," said John Dalhuisen.
Following a failed coup attempt on July 15, Turkey launched a massive crackdown on the alleged coup supporters. It also introduced a state of emergency on Wednesday, which, according to the deputy prime minister, means a means temporary suspension of the European Convention on Human Rights.
In total, 13,165 people have been detained for alleged involvement in the foiled coup attempt in Turkey that occurred on Friday July 15, Turkish President Recep Tayyip Erdogan said.
"Some 8,838 among the detained are soldiers, 2,101 are judges and prosecutors, 1,485 are police officers, 52 are local authorities and 689 are civilians," he said as quoted by Turkish Hurriyet daily.
In the meantime, 934 schools, 109 dormitories, 15 universities, 104 foundations, 35 health institutions, 1,125 associations and 19 unions were closed over alleged links to what Erdogan described as "the Fethullahist Terrorist Organization." Their assets were seized by the state.
On Saturday, Turkish authorities arrested a man, whom a presidency official described as the "right hand" of US-based Turkish cleric Fethullah Gulen, who President Recep Tayyip Erdogan has accused of masterminding the failed coup attempt.
Earlier Saturday, Muhammet Sait Gulen, Fettulah Gulen's nephew, was arrested on the orders of the chief prosecutor of Ankara.
Meanwhile, Erdogan told France 24 on Saturday that the arrested coup plotters "are starting to confess." He also justified the imposition of the state of emergency by saying that it is actually aimed at supporting and strengthening democracy. He also said that it could easily be prolonged if necessary.
You can share this story on social media: