Erdogan to eradicate 'separatist & terrorist' infiltrators, inject army with 'fresh blood'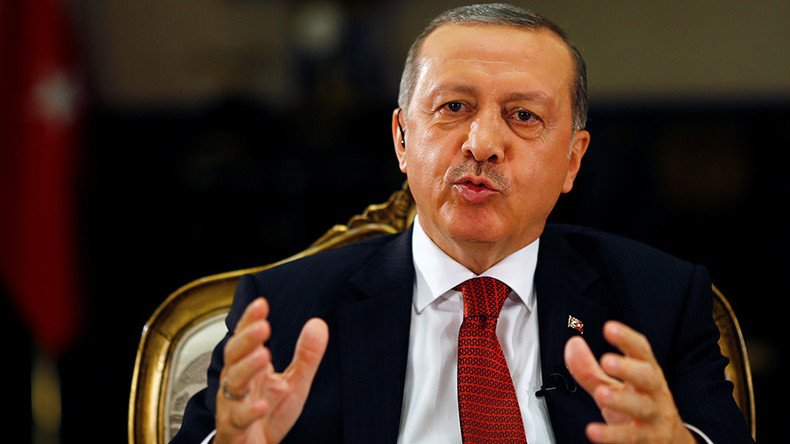 A new coup attempt is still possible in Turkey because "separatists" and "terrorists" have potentially infiltrated the state structure, President Tayyip Erdogan has warned, claiming that the failings which led to the putsch mean a restructuring of the military is required.
The Turkish leader stressed that while the threat of another power takeover is a possibility, such an attempt would not be easy, as security forces and intelligence agencies "are more vigilant" following the failed coup.
LIVE UPDATES: #TurkeyPurge: Post-coup crackdown
After declaring a state of emergency late Wednesday, Erdogan in an interview with Reuters revealed that lapses in intelligence led to the previous attempt to seize control of the country.
"It is very clear that there were significant gaps and deficiencies in our intelligence, there is no point trying to hide it or deny it. I told it to the head of national intelligence," Erdogan told the new agency.
The upcoming meeting of the Supreme Military Council might bring about significant restructuring of the military. "Within a very short amount of time a new structure will be emerging," Erdogan said. "With this new structure, I believe the armed forces will get fresh blood."
The president also reiterated his commitment to continuing a crackdown on the opposition, especially on followers of US-based cleric Fethullah Gulen, who the Turkish government blames for the coup attempt.
Gulen's movement, known as Hizmet, encompasses a broad train of thought in Turkey. Followers in the country are believed to hold influential positions in various institutions ranging from the police and secret services to the judiciary and even the ruling AKP party. In addition, Hizmet runs schools across Turkey, while other institutions can be found from Pakistan to the US.
Authorities blame the so-called Fethullahist Terrorist Organization/Parallel State Structure (FETO/PDY) allegedly led by Gulen for orchestrating the Friday's coup. Erdogan, in an interview on Thursday, equated the threat stemming from Gulen's influence to that of the Kurds, in particular, the Kurdistan Workers' Party, (PKK), considered terrorists in Turkey, which Ankara has been trying to eradicate for decades.
He said Gulen and his movement will be treated as "another separatist terrorist organization," calling the actions of those involved in Friday's armed rebellion "inhuman" and "immoral."
The Turkish parliament ratified the a three-month state of emergency initiated by Erdogan in a 346 to 115 vote. "With this motion, the gangs of FETO terror movement banding together within the state for years, will be wiped out," said Turkish Prime Minister Binali Yildirim after the vote. "These forces targeting democracy and the future of the state will be eliminated forever."
"We will continue the fight ... wherever they might be," Erdogan said, adding that if necessary the three-month state of emergency could be extended. "These people have infiltrated the state organization in this country and they rebelled against the state."
In response to Erdogan's request to extradite Gulen, US Secretary of State John Kerry asked Ankara to present evidence against the cleric.
"With respect to Mr. Gulen, we have consistently said to our friends in Turkey, our allies in Turkey, that we need evidence," Kerry said. "We have a very strict set of requirements that have to be met for an extradition to take place."
Kerry added "we need to have evidence which we can then make a judgment about," rather than base decisions on "allegations."
Besides dozens of coup plotters, some 246 people were killed when parts of the military tried to seize power last Friday and Erdogan called on his supporters to go in the streets to protect democracy. In fierce fighting involving jets, military helicopters and tanks that lasted into Saturday morning, a further 2,185 people were wounded.
In the wake of a massive crackdown on the opposition across all sectors of society, which has so far affected over 60,000 people, Erdogan is pushing forward to reintroduce the death penalty, a move that has been criticized globally, and especially by the EU, which Turkey has been trying to join.
READ MORE: Turkey to suspend European human rights convention following failed coup
On Thursday, Turkey temporarily suspended the European Convention on Human Rights, for the duration of the state of emergency, which calls for protection of human rights and fundamental freedoms of people in the country.
You can share this story on social media: