Turkey detains key aide to US-based 'coup mastermind' Gulen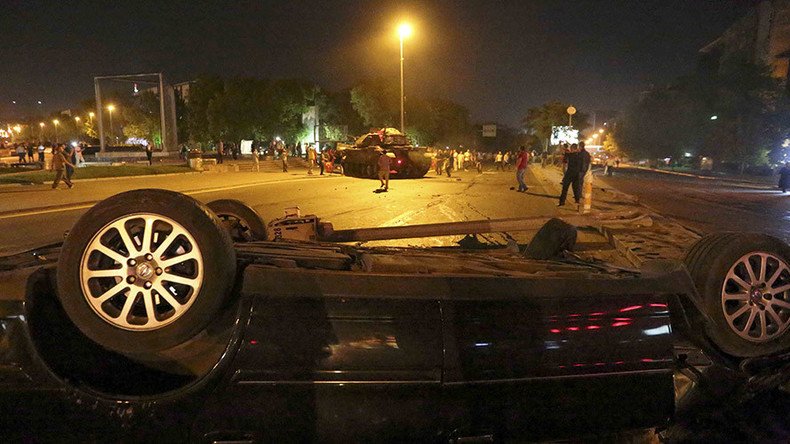 Turkey's authorities have detained the "right hand" of US-based Turkish cleric Fethullah Gulen, who President Recep Tayyip Erdogan has accused of masterminding the failed coup attempt, a presidency official said.
Gulen's key aide Halis Hanci arrived to Turkey two days before the attempted coup, according to the official who described him as Gulen's right-hand man.
Earlier Saturday, Muhammet Sait Gulen, Fettulah Gulen's nephew, was arrested on the orders of the chief prosecutor of Ankara. He is the first of Gulen's close relatives to be detained in the current crackdown, though other members of the Pennsylvania-based preacher's family have previously been placed in custody.
The arrested coup plotters "are starting to confess," Erdogan told France-24 television in an interview on Saturday, stressing that, according to the testimonies of the coup leaders, they "were given instructions from Pennsylvania."
"They even tried to get the army chief of staff, who was being held hostage, to speak to Gulen directly," Erdogan told France-24.
Similar information has been reported by the Turkish state-run Anadolu news agency, which said that those who took the Chief of the General Staff hostage during the attempted coup demanded that he speak with Gulen.
Erdogan accused Gulen, the exiled Turkish cleric living in the US, of masterminding last week's failed coup from the very beginning. On Saturday, Turkish authorities arrested his nephew, Muhammet Sait Gulen.
Turkey has repeatedly demanded that the US extradite Gulen, and has said it will submit an official extradition request for him within days.
In the meantime, Gulen himself has repeatedly denied any links to the coup, and has condemned it. He also claimed that his supporters are being framed in what he says may have been a provocation false-flag staged by Erdogan himself.
Erdogan and Gulen were once allies when in 2003 he was elected prime minister and began neutralizing potential threat from secular rivals and promoting the cleric's followers. However, Gulen became Erdogan's enemy after his supporters allegedly recorded and leaked incriminating conversations involving Erdogan, his relatives and other top officials in 2013 and 2014.
Meanwhile, Erdogan also justified the imposition of the state of emergency in Turkey, which was introduced on Wednesday by saying that it is actually aimed at supporting and strengthening democracy.
"Everything is on track and the state of emergency is simply for the purpose of the healthy functioning of our democratic institutions. Our public institutions will function more smoothly," he said, adding that "my people shouldn't have the slightest concern."
"We will continue operations against these separatists. We have to rid our institutions of this cancer," he stressed at the same time, referring to Gulen's supporters.
Also on Saturday, Erdogan signed a decree ordering the closure of 1,043 private schools, 1,229 foundations and associations, 35 medical institutions, 19 unions, and 15 universities associated with Gulen, or allegedly run directly by his popular Hizmet movement. This was the first decree Erdogan introduced under the state of emergency.
More than 10,000 people have been arrested in Turkey since a faction within the army led an abortive takeover attempt on July 15 in which at least 265 people were killed. While most of the detainees are military personnel, many judges and civil servants were also arrested.
Over 37,500 police staff and civil servants have been suspended, and more than 21,000 teachers have been stripped of their licenses.
Turkey's state of emergency also means temporary suspension of the European Convention on Human Rights, the deputy prime minister said earlier. In the meantime, Erdogan said that the emergency stance could easily be prolonged if necessary.
"There is no obstacle in terms of prolonging it. Initially of course it is three months, but after three months we can ask for a second three-month period and extend it," he said.
You can share this story on social media: