US sanctions are 'declaration of war,' N. Korea says, promising backlash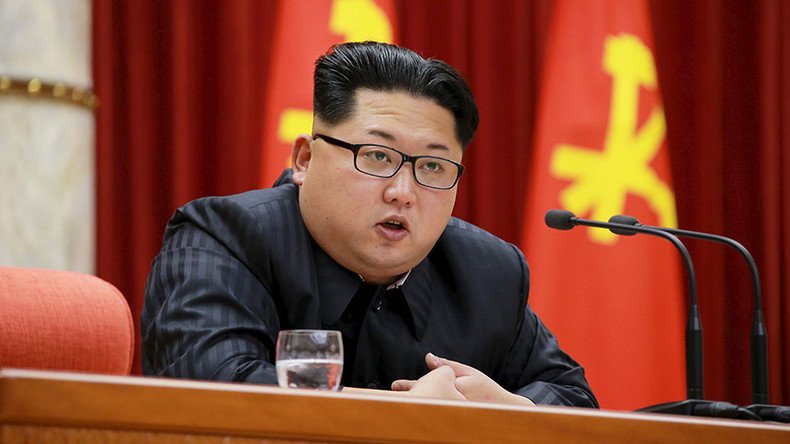 North Korea has labeled newly-introduced US sanctions against its leader Kim Jong-Un 'a declaration of war', promising to provide Washington with a strong response.
The restrictive measures constitute "the worst hostile act" and "an open declaration of war," KCNA state news agency cited a statement by North Korea's Foreign Ministry as saying.
Washington crossed the line by committing a "hideous crime" and Pyongyang will now retaliate with "toughest countermeasures," the ministry stressed.
"What the US did this time, not content with malignantly slandering the Democratic People's Republic of Korea, is the worst crime that can never be pardoned," it added.
The US State Department responded to the harsh comments from North Korea by calling on Pyongyang to refrain from moves that promote the escalation of tensions on the Korean Peninsula.
"We ... once again call on North Korea to refrain from actions and rhetoric that only further raise tensions in the region, and I can't see how this rhetoric does anything but that," State Department spokesman John Kirby stressed.
On Wednesday, the US imposed sanctions on Kim Jong-Un and 10 other top North Korean officials, as well as five entities over "notorious abuses of human rights."
The sanctions froze any property held by the North Koreans within US jurisdiction and prohibited US citizens or entities from engaging in transactions with them, the US Treasury Department said.
South Korea has backed the US decision to introduce sanctions against the North Korean leadership, the country's foreign ministry said.
"The government [of South Korea] appreciates and welcomes the US decision to impose sanctions against those involved in human rights violations in North Korea. This move demonstrates our commitment to strengthen the sanctions regime against the DPRK (North Korea) in various directions," the ministry said in a statement.
In recent years, the North Korean authorities have been repeatedly accused of human rights violations.
The UN established a special commission in 2013 to ensure full accountability of those responsible for violations, including grave ones, which may amount to crimes against humanity.
READ MORE: S. Korea fears N. Korean dam overflow may cause severe flood
During his Chinese visit, UN Secretary General Ban Ki-moon expressed hope that Beijing would persuade its allies in Pyongyang to cooperate with the international community on human rights.
Ban's spokesman, Stephane Dujarric, said the UN head "believes that discussion of human rights concerns allows for a more comprehensive assessment and action when addressing security and stability concerns on the Korean Peninsula."
The Chinese Foreign Ministry spoke out against the US sanctions over human rights, saying that the alleged violations bear no threat to international peace and security.
READ MORE: N. Korea claims successful mid-range ballistic missile test, touts ability to attack US interests
It's the first time that Kim Jong-Un has personally been targeted by restrictive measures, while North Korea has been under UN sanctions since 2006.
In March, the Security Council imposed new harsh sanctions against the communist state after Pyongyang carried out its fourth nuclear test in January and then launch of a long-range missile the next month.
You can share this story on social media: