N. Korea claims successful mid-range ballistic missile test, touts ability to attack US interests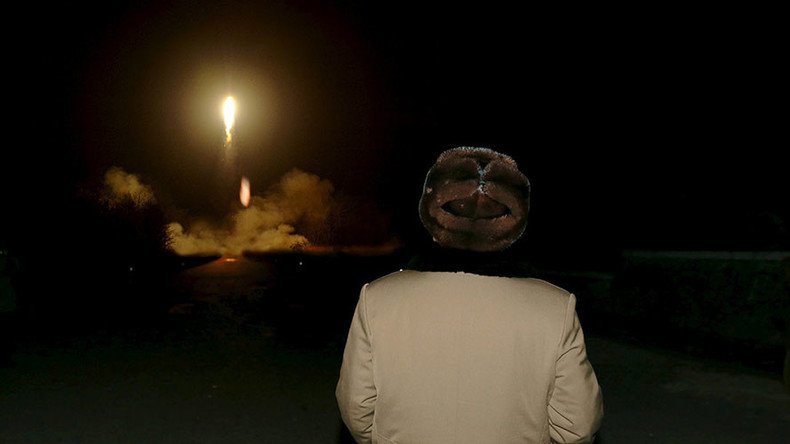 The latest tests of intermediate-range ballistic missiles were successful and proved that North Korea has a "sure capability" to strike US "interests" in the Pacific region, state news agency KCNA reports.
The announcement follows two test-launches on Wednesday of what was presumed to be Musudan intermediate-range ballistic missiles (also known as Hwasong-10), at least one of which the US and South Korean militaries considered a "failure."
"The test-fire was successfully conducted without giving any slightest effect to the security of surrounding countries," KCNA said, adding that North Korean leader Kim Jong-un was supervising the test.
"The current test-fire marked an important occasion in further strengthening the nuclear attack capacity of our state," Kim said, as cited by Yonhap. "We have the sure capability to attack in an overall and practical way the Americans in the Pacific operation theatre."
The first missile launch on Wednesday is widely believed to be unsuccessful, according to US and South Korean media citing military sources. However, the second attempt indicated that Pyongyang might have fixed some of the problems with Musudan, as the rocket reportedly flew some 400km, reaching an altitude of up to 1,000km.
Pyongyang's ballistic missile tests worry Washington, as well as its allies Tokyo and Seoul, because much of the region, including US military interests, are within reach of Musudan's potential 3,500km range.
The US, Japan and South Korea condemned the tests as provocative and urged international community to address Pyongyang's behavior. UN Secretary-General Ban Ki-moon called the latest tests an "irresponsible act" and a "grave violation" of North Korea's international obligations and UNSC resolutions, according to deputy spokesman Farhan Haq.
Pentagon urges expansion of US & allies' missile defenses
US Defense Secretary Ash Carter admitted he didn't know whether Pyongyang's launch was a success. Nevertheless, he used the opportunity to emphasize the need to step up missile defenses in South Korea, the United States, and Japan - a move that will probably get a frosty reception from China.
"But for whatever reason, and with whatever level of success, this shows the need for us to continue to do what we're doing, which is build these missile defenses of various ranges to protect both our South Korean allies, US forces on the Korean Peninsula, Japan, and US territory," the US defense chief said.
In response to a series of missile tests North Korea has been conducting since January this year, the United States and South Korea have agreed to initiate working-level talks over the possible deployment of a Terminal High Altitude Area Defense (THAAD) anti-ballistic missile defense system on the peninsula.
The ongoing talks on the possible deployment have been repeatedly criticized by Beijing, which "strongly opposes" the missile defense system, saying it's a threat to its national security.
China maintains THAAD, designed to intercept short, medium, and intermediate-range ballistic missiles during their terminal phase of flight, will jeopardize the country's nuclear deterrent. Such a system could be used to intercept Chinese intercontinental ballistic missiles (ICBMs). Beijing also believes the radar deployed with THAAD will give Washington the potential to spy on its strategic arsenal.
You can share this story on social media: