S. Korea fears N. Korean dam overflow may cause severe flood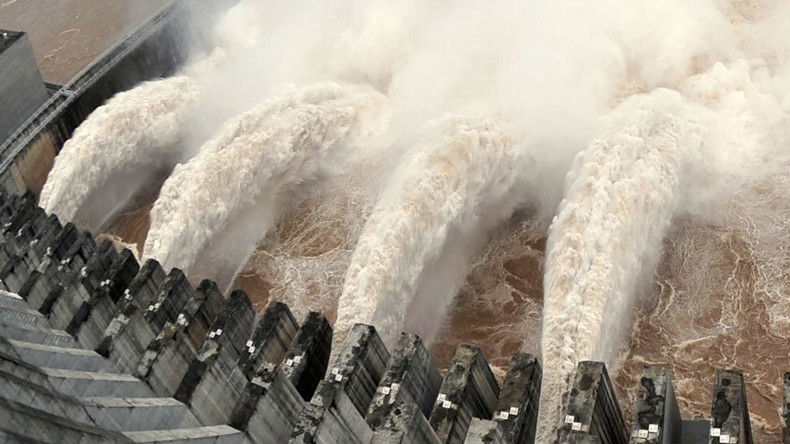 The latest satellite footage has shown that a North Korean dam near the border may overflow, putting South Korea at immediate risk. The South's Defense Ministry says they are closely monitoring the situation.
The Hwanggang Dam is filled with water almost to its full capacity, as satellite images taken from the South's Satellite Arirang on Sunday show, as reported by Korean news outlet KBS.
The dam's maximum depth capacity is 114 meters. The current level is 108 meters, according to an official from South Korea's Korea Water Resources Development Corporation (K-Water).
The dam is 46 kilometers from the Military Demarcation Line, and some 55 kilometers from the South Korea's Gunnam Dam.
If North decided to discharge water, it would take 30 minutes for water to reach the demarcation line and the South Korean dam, through the Imjin River. The water's speed would reach 500 tons per second.
"Water level has risen up after heavy rains this year," Defense Ministry spokesman Moon Sang-gyun said on Monday, as cited by Yonhap news agency.
Assuring that Seoul's military forces are keeping themselves "informed of the issue" and are "standing ready to extend assistance if needed," the official noted moves by the North to release water downriver couldn't be labeled as some sort of "flooding attack."
READ MORE: N Korea backs 'wise politician' Trump, slams 'dull Hillary'
Seventy-one million tons of water can be accommodated by the Gunnam Dam, which is 20 percent of the North Korean 350-million-ton dam, so South Korean officials are concerned by the potential hazard.
The Gunnam Dam is currently working 24/7 in emergency mode to deal with the potential damage, a K-Water official told KBS. The North has used this tactic before.
Last month, North Korea released water twice, causing damage to South Korean fishermen in the mouth of the Imjin River.
In September 2009, Pyongyang discharged huge amounts of water into the river without notifying the South Korean authorities. Six South Korean campers were killed in the incident.
You can share this story on social media: