360, everyone: RT brings virtual reality to St. Petersburg Intl Economic Forum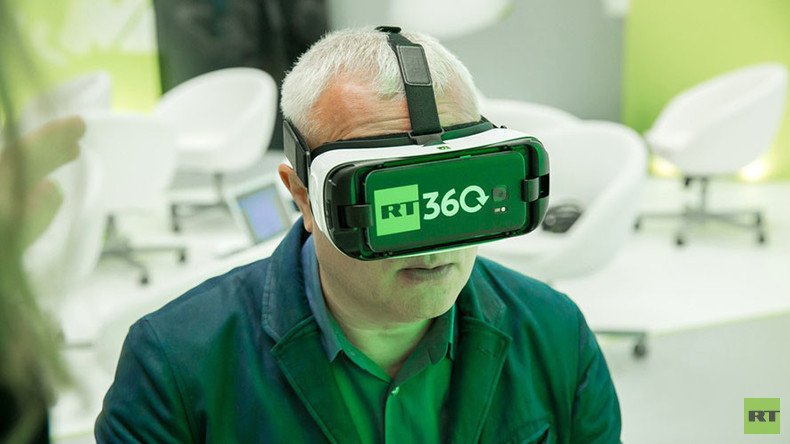 Watching videos filmed by RT in immersive panoramic format compatible with virtual reality devices has become a gripping first-time experience for many of the guests at the Saint Petersburg International Economic Forum (SPIEF).
While the attendees definitely know a lot about world economics and politics, RT's 360-degree panoramic footage was a real discovery for many of them.
Russia's envoy to the UN, Vitaly Churkin, and BP chief executive Bob Dudley have been enjoying the new experience offered at RT's stand at the forum. We don't know what impressed them most, as all of the VR broadcasts are really amazing, be it pioneering footage of a military parade on Red Square recorded from inside a tank and the cockpit of a Sukhoi Su-27 fighter, or the first-ever 360 video of Russia's amazing drifting Arctic base.
Aleksandr Lebedev, Russian businessman and owner of two UK newspapers, The Independent and Evening Standard, might have felt the thrill of really being inside an F1 racecar at the amazing track located at Sochi's Olympic park. The first-ever cutting-edge 360-degree view of an Orthodox Easter service inside Moscow's main cathedral was also recorded by RT crews.
360 videos are best viewed in desktop browser or in the YouTube app
RT has been producing video footage of the most exciting events with a special, fully immersive camera since last year, giving viewers a new sense of being at the heart of the action. In December of 2015, RT became the world's first international TV news broadcaster to launch its own immersive video mobile application – RT360, which is available in Google Play and AppStore. The unique panoramic videos can also be watched on a Facebook page, as well as on RT's YouTube channels, from where the content is available for embedding on any website.
You can share this story on social media: