#DigitalVDay in 360: Experience WWII victory celebrations in RT's unique panoramic videos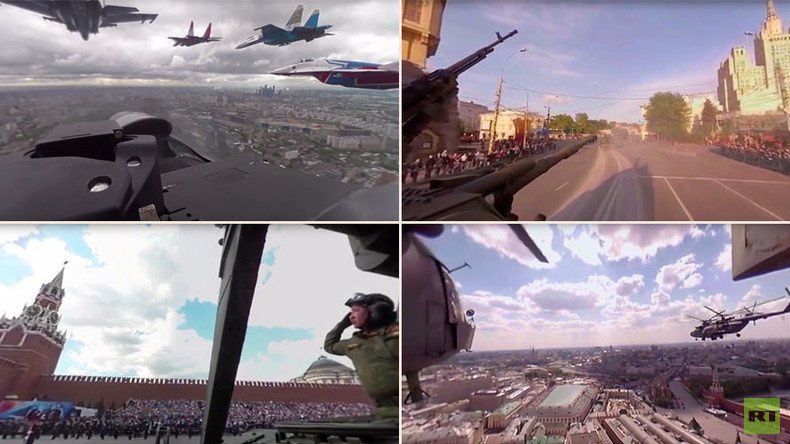 Ever dreamed of riding in a tank or flying a state-of-the-art warplane – let alone those set to be proud members of Moscow's iconic Victory Day parade? RT is giving its viewers this unique chance with cutting-edge 360-degree videos.
The panoramic videos filmed by our crews prior to the major May 9 showdown on Red Square give an exclusive immersive view of one of the biggest parades in the world.
360 videos are best viewed in desktop browser or in the YouTube app.
This is what it's like to be in the cockpit of a Su-27 fighter jet.
The Mi-8, one of the world's most common military aircraft, also took part in the parade as it flew over Red Square. The flight RT managed to film gave some fantastic views of the iconic location in the Russian capital, which will see around 10,000 soldiers taking part in the parade.
The military hardware has to start its journey from somewhere and this is where – in the northwest of Moscow, some five kilometers away from Tverskaya Street, which leads on to Red Square. An RT cameraman managed to get inside the Msta-S howitzer and film the ride.
RT also managed to fix a camera to a self-propelled howitzer Koalitsiya-SV. The vehicle is no stranger to the parade, having taken part in last year's.
This is what the parade looks like from atop of a tank. This video was shot during the rehearsal at the Alabino firing range, not far from the Russian capital, showing dozens of armored infantry vehicles.
Moscow's central streets can be busy even at night; however, they were cleared as this group of Tiger APCs paraded through the capital in the build-up to Victory Day on May 9. The video gives the viewer a feeling of what it is like to be behind the wheel of the all-terrain vehicle.
Barrel-rolls, skewed-loops and "Cuban diamonds" are just some of the moves the pilot of this Su-27 fighter jet can perform. The Russian Defense Force aircraft have been practicing their maneuvers at Kubinka, just outside of Moscow, with some 100 helicopters and airplanes – 71 main aircraft and up to 40 as backup – pulling off the stunts.
This was the final rehearsal ahead of the big day on May 9 as the Russian military put the finishing touches to its parade. Third-generation T-90A tanks, tactical Iskander-M ballistic missile systems and Topol-M intercontinental ballistic missile systems were just some of the hardware on show. However, on Victory Day itself, viewers will have the chance to see the legendry T-34 tank, which was so crucial in helping the Soviet Union defeat the Nazi invasion.
You can share this story on social media: